[Multimedia] The era of influencers
Lily Singer, Senior Arts & Leisure Editor and Senior Opinons Editor
February 28, 2023
Influencer Culture:
Alongside the rise of social media platforms such as Tik Tok and Instagram, influencers and content creators have become prominent in recent years. While influencing has been a concept since the days of Tumblr and Myspace, it really took off during the COVID-19 pandemic when the virus caused lock downs across the globe. Being quarantined at home for months added serious fuel to the fire for those creating content, as well as those consuming it at previously unimaginable levels.
Now, upwards of 50 million people around the world consider themselves content creators or influencers. Influencing has also become a segment of the economy with investments into the creator space totaling 5 billion dollars last year alone.
Influencer culture has taken off; in 2023, influencers are almost indistinguishable from Hollywood celebrities. For example, Tik Tok influencer Madeleine White was invited to this year's prestigious Grammy Awards amongst Harry Styles, Taylor Swift and many other famous musicians. Social media sensation Charli D'Amelio has been included not once, but twice, in Forbes "Top Seven Highest Paid TikTok Stars."
These influencers, along with many others, have created an entire brand for themselves including merchandise lines and even their own TV shows such as the "D'Amelio Show" which was released on Hulu in 2021 and focuses on the lives of Charli and Dixie D'Amelio as well as their parents Heidi D'Amelio and Marc D'Amelio.
Whether you love them or hate them, there is no denying that influencers can make a serious career. Many influencers lead luxurious lives; they are always getting free stuff from brands, eating at the most exclusive restaurants, spending their weekends lazing in opulent villas and charging an average person's monthly salary just to post one Instagram story.
On a basic level, influencers are people who influence others to buy products. More specifically, social media influencers are individuals who have created a following on various social media platforms, often for their knowledge and expertise on a specific topic. They make regular posts about that topic on their preferred social media channels and generate large followings of enthusiastic, engaged people who pay close attention to their views.
There are several different categories that influencers can be placed into based on their following count. Nano-influencers are those with under 10,000 followers, micro-influencers have between 10,000-50,000 followers, mid-tier influencers have 50,000 to 500,000 followers, macro-influencers have 50,000 to 1,000,000 followers and mega-influencers have 1,000,000 or more followers.
Influencers focus on a variety of topics or niches such as food, fashion, beauty, arts and crafts, exercise, lifestyle and so much more. The content they create involves filming different types of videos and taking pictures for their social media platforms.
There are many different videos content creators can film such as reviewing a product, unboxing a package, posting what they eat in a day, doing a get ready with me video or taking their followers along for a day in their life. These are just some of the common trends on Tik Tok, although there are many more that influencers can create.
In order to monetize their social media, many influencers offer sponsored posts, brand partnerships, affiliate marketing and other forms of collaboration with brands.There is not one cut and paste salary that can be applied to every influencer; it really depends on the number of followers, the industry they are in and how well their services are marketed.
Sponsored posts are one of the most popular ways for influencers to make money. It is when a brand pays an influencer in exchange for them making a post or video about the brand's product or service. When an influencer vouches for a brand, their followers are more inclined to trust that brand.
Some influencers may become brand ambassadors for certain brands. A brand ambassador partnership is an agreement between an influencer and a company. The influencer typically agrees to promote the company's products or services, often exclusively.
This can take the form of cash, free products or other perks. Numerous brands have started hosting influencer trips, such as the makeup company Tarte, who flew out several influencers for a fun-filled weekend in Dubai. While on the trip, the influencers were given tons of free products and gifts with the agreement that they would produce content while they were there.
In addition to offering sponsored posts or becoming a brand ambassador, affiliate marketing is a type of performance-based marketing. A business rewards affiliates for each customer brought by the affiliate's marketing efforts. If you have seen influencers who promote a discount on a product or service with a personalized code or URL, those people are likely affiliate marketers. They want to incentivize sales and track customers, so they can get paid a certain amount per sale.
Being a social media influencer has both its pros and cons, although it has undeniably become a full blown career field in recent years.
How can I do this:
With an increase of social media influencers, many have wanted to throw their hat in the ring and create content to post on social media. After all, creating content does not have to be super difficult; all you really need to start up is a phone where you can create and post your content.
While there is not a foolproof way to become an internet sensation, there are some steps you can take to increase your chances.
First of all, it is important to choose a niche, or a specific topic or category that you want to focus on and build your authority, reputation and expertise. You can focus on reviewing makeup, creating recipes, posting your workouts or reviewing restaurants. No matter the niche, it is important to be authentic in your posts; therefore, choose a niche that fits your passions and that you will not eventually find boring.
Once you have decided your niche, determine your demographic, or the type of general audience you intend to appeal to. For example, if you want to create a makeup account, you may target a certain group of people.
Next, select which channel you want to post on. When content creators start out, most choose to focus on building one social media channel first such as Instagram or Youtube. While you may be active on multiple platforms, you should concentrate the majority of your posting efforts on your main channel. Select a main channel that appeals to your target demographic and makes sense for your niche.
After completing all of these steps, start planning an editorial calendar, or a schedule of the content that you plan to post online each day. It is important to post to your platform on a predictable schedule. For example, your editorial calendar might include Instagram posts five times per week and a YouTube video once per week.
Make sure to encourage traffic to your page by utilizing relevant hashtags on your posts, making your content shareable and saveable and encouraging users to post their own comments.
Finally, it is time to begin reaching out to brands. Try to write a short biography that labels you as an influencer who actively welcomes brand collaborations. Include your contact information on your social media profiles to make it easy for brands to reach out.Growing a fanbase will take time; it is important to be consistent in your posts and value authenticity.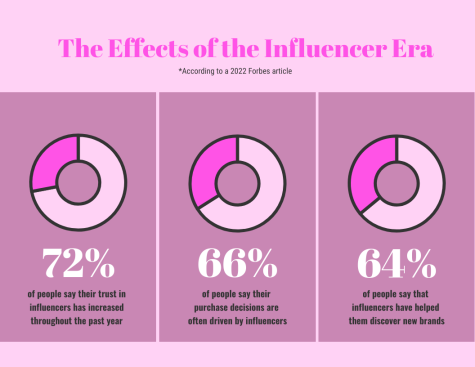 The #de-influencing movement :
One of the main roles of influencers is to mobilize their viewers to buy certain products.
It is the job of an influencer to convince their viewers that this is the best mascara in the world, this shirt is the comfiest one that they have, their skin will never be the same after trying out this new face wash and you will receive so many compliments on this trendy phone case. This constant influencing results in often unnecessary and excessive consumption.
That is why there has been a new movement on Tik Tok called #de-influencing where users and influencers alike keep it real with their viewers, giving them real reviews on what actually works and what does not. Many offer cheaper and better alternatives to ensure that consumers get the bang for their buck.
"Do not let anyone, including me, make you feel pressure to go spend money and live beyond your means, just to keep up with all the new makeup and all the new products that are constantly dropping," Dara Levitan, a New York City-based makeup artist with 205,000 Instagram followers said. "If you have a product that is beautiful and it works for you, stick with it."
According to a 2023 article by Influencer Marketing Hub, ​61% of consumers trust influencer recommendations, compared to 38% who trust brand-produced content. Brands used these well known and loved influencers as a vessel to raise awareness for and advertise their product.
The main role of an influencer is to show viewers user generated content, a real person telling them that a product is good rather than the actual brand. However, it is important to remember that influencers are just another form of marketing used by brands. While it may seem like an influencer is being sincere when reviewing a product, they likely have some sort of contract or partnership with that brand that requires them to review it in a positive light.
It is no secret that we are spending an unprecedented amount of money on cosmetics. Data suggests that the global beauty industry market is valued at 036;511 billion. Influencers make a great deal of money from recommending products, too, whether organically or through sponsored posts. The influencer market as a whole is reported to reach 036;17.4 billion by the end of 2023.
If you buy a product based on an influencer's glowing recommendation, you expect it to work. Judging by countless new TikTok videos, however, many of these influencer-adored beauty products just do not live up to the hype. When they fall short, you are right to feel cheated out of your hard-earned money — and that is exactly why beauty lovers are increasingly demanding honesty from the influencers they follow who post misleading reviews and promote over consumption.
De-influencing is not a case of being negative about beauty brands for the sake of it.
Influencers often use hyperbolic language when they talk about certain beauty products. De-influencing feels like a breath of fresh air compared to the 'you have to try this product right now' type of content that was previously all over the For You Page.
The de-influencing messaging feels more cost-effective and sensible, but also better for the environment. Zero Waste Week has reported that 120 billion units of packaging are produced every year by the global cosmetics industry. A lot of beauty packaging can be refilled or recycled but it is no secret that lots of smaller plastic beauty products such as lipstick cases, are too small to be recycled and ultimately end up in landfill.
It is also important to note that established and even micro-influencers are given beauty products for free. The constant stream of videos serving up an abundance of beauty launches does not translate well amid a cost of living crisis, especially when it is reported that beauty retail prices have risen in the last decade, and even reasonably priced brands like The Ordinary and The Inkey List have increased prices. TikTok's de-influencing community is reminding us all to take stock of the relationship between influencers and brands whose aim it is to make money.
With all that said, it is not lost on TikTok's community that de-influencing is still influencing. A lot of the time, influencers who discourage their followers from buying certain products tend to offer up what they believe to be better alternatives. They are still influencing you to spend money. Still, this new era is a reminder that filters, clever lighting and money are the biggest driving forces behind much of the beauty industry on social media. De-influencing encourages us to take everything with a grain of salt.
Being Authentic:
Experts think that de-influencing was bound to happen sooner or later. "TikTok users value authenticity and they are not afraid to call anyone out if they feel they are being inauthentic," Trina Albus, a digital content creator and beauty expert, said.
Sure enough, raw and unfiltered reviews create an element of trust. Albus, who believes that de-influencing is resetting the influencer space, warns that content creators who value money and deals over authenticity should be worried. She suggests they should rethink their strategy entirely, especially as the wider trend for de-influencing will inevitably put them under a lot more scrutiny from beauty lovers.
In a time of opulence and fakeness, it is important to be authentic. Sophie Attwood, founder of PR agency Sophie Attwood Communications, says user-generated reviews and content are now preferred over polished ads or big-name influencers.
"We're looking for genuine recommendations from other users, reviewers or authentic creators," Attwood said. "There is power in truthful coverage as opposed to large advertising budgets or glossy advertorials."
One beauty influencer getting it right is @makeupbymonicaa aka "your #browngirlmakeup bestie." Monica recently posted a video on influencer integrity. "I've been a consistent content creator on TikTok for almost three years now," they said. "Sure, I make a lot of review-based videos, but my focus has always been education." Monica calls for ads which are compliant with US Federal Trade Commission guidelines, reviews of products that people actually like and filter-free content.
Monica went viral recently for posting a video where they discussed how to be "correctly" influenced. "By following these cues, you'll not only be buying better products," said Monica, "but you'll be buying [fewer] products."
Albus says that the trend for de-influencing is actually making social media platforms a better, more trustworthy place. She believes that viewers now value authenticity over aspiration and cites the backlash towards the recent Tarte makeup trip, where the beauty brand flew a group of influencers out to Dubai. TikTok users speculated that the trip could have cost hundreds of thousands of pounds per person. Not only did TikTokers feel the trip was tone deaf, particularly in a cost of living crisis, but there was further backlash when commenters under a viral video unpacking the trip alleged that the influencers involved didn't even use Tarte products.
In a time of excessive consumerism and waste, valuing trust and authenticity can be important.
All in all:
The rise of influencing and influencer culture has changed the way brands advertise as well as the way consumers buy. Shoppers often want to see user-generated content, reviews by real people and not the actual brand. However, it is important to think carefully when you feel influenced to buy a product; do you really need it or will you actually use it? Asking yourself these questions can reduce unnecessary waste and limit extra consumption that harms our planet.