Doc Martens rise in popularity for the fall season
With the fall season in full swing, and winter quickly approaching, students are getting rid of last season's shoes and replacing them with this season's most popular kicks: Dr. Martens. These timeless shoes never seem to go out of style and are currently trending for the 2021 fall fashion season.
Dr. Martens, commonly known as Doc Martens, is a British footwear company developed in 1947 that specializes in boots, platform shoes and leather shoes. They are easily recognizable by their signature yellow stitching and have become an iconic staple in men's and women's footwear.
Walking down the hallways of Marjory Stoneman Douglas High School, there is a large possibility that one may walk past students wearing Doc Martens. The fashionable shoes are all over school and social media, influencing many students to add these boots to their closets.
"I first saw [Doc Martens] on TikTok and thought they were cool, so I went to the mall, bought a pair and fell in love with them," sophomore Lilliana Barbati said. "They definitely are in the 'fall shoe' category. There is something about the yellow stitching along the sole that makes them seem like fall shoes."
The shoes come in a variety of different styles: boots, heels, sandals, loafers and Mary Janes, which are low-cut, rounded shoes with a thin strap that is fastened with a buckle or a button. Within each of these styles, there are different materials and colors one can choose to customize their shoes with.
"I love the Mary Janes because you can style them for dressed-up occasions or casual occasions," sophomore Emma Wooley said. "I also prefer the leather platform boots because they are a classic and go with every outfit."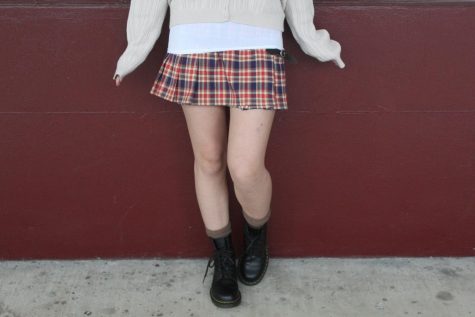 There are endless possibilities when it comes to styling the shoes. The versatility of Doc Martens allows them to be worn with almost any outfit. Both Barbati and Wooley recommended pairing the shoes with fun socks and long, flared pants, which also happen to be in trend for the fall season.
Although Doc Martens are fashionable, they bear some discomfort when initially breaking them in. The shoes only come in whole sizes and are of hard leather-material when first purchased. It may take a couple of wears to ease into the feeling of the shoes; wearing thick socks or heel pads can help speed up this process, according to several students.
"You have to be committed to wearing them a lot if you want to break them in fast," Barbati said. "It took me a couple of days to break into mine; but once they are broken-in, they are super comfortable."
If one is looking for a way to improve their shoe game for this fall, Doc Martens are the perfect purchase. While slightly pricey, these shoes appeal to all fashion senses while allowing for individuality and fitting in with this year's trending styles.