MSD Eagles men's varsity soccer team loses in a close game to Coral Glades in districts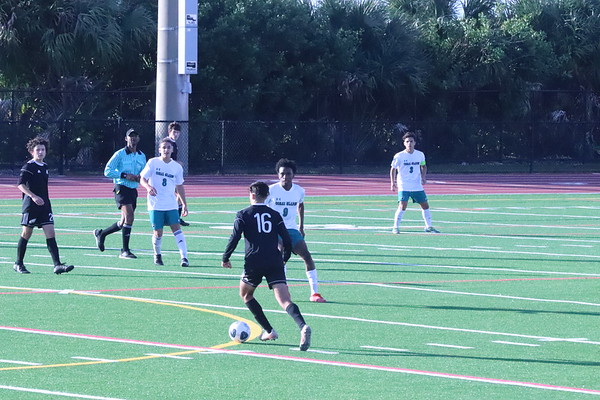 The Marjory Stoneman Douglas High School men's varsity soccer team head to Coral Glades High School to take on the Jaguars for their semifinal match on Wednesday, Feb. 2, at 6:15 p.m.
The kickoff went to the Eagles after the coin toss. The possession afterwards was short, however, as Coral Glades stole the ball from the offense.
Neither team's offense looked 100% as they were not passing well and turned the ball over. Eagles defender Robbie Alhadeff (8) was playing elite, and the Jaguars were unable to get the ball past him.
The ball was going back and forth past half field, but couldn't get into the goalie box for either team for the first ten minutes of the half.
MSD finally had a great shot out of the box, but it was over shot by just a foot or two. The momentum started to shift to their side, and the Eagles took another shot on goal to which the Jaguars goalkeeper had an amazing save.
With two minutes left in the half, Glades had possession. They passed around for about a minute and then took a very far shot on goal that MSD goalkeeper Bruno Defalco (1) saved to kick it away as the half ended.
"I felt [Coral Glades] was outplaying us," Alhadeff said.
At the start of the second half, Coral Glades started off with the ball and passed all the way back to the goalie. Then, the Eagles' goalie kicked far up the right side and made a push very early.
They ended up over dribbling the ball, and MSD stole the ball and made some quick passes up field and took a shot but was too far right and missed.
The next 10 mintues of the second half were the same as the first half as there were no goals and very slow paced.
The second half was just each team's defense playing great.
The final regulation score was 0-0, and the game was going into overtime. Overtime rules work by playing a first-to-score quarter, then goes into shootouts if each team is unable to score. Each team gets to shoot four shots for their penalty shootout, and whoever makes the most wins.
Overtime was the same as the game, only about three shots were taken combined, and there weren't many chances to score.
This meant that the game was going to a shootout. This was the Eagles first shootout of the season.
The Jaguars came out on top in the shootout with a score of 4-2 as MSD's season came to an end in the semifinals. It was a great season for MSD, and they look towards success next year.