MSD Men's Golf team wins BCAA tournament to reinforce their control over Broward County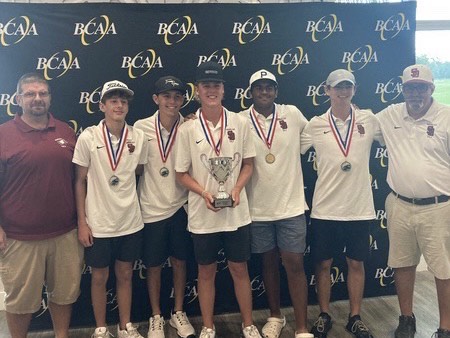 On Monday, Oct. 17, the Marjory Stoneman Douglas High School men's varsity golf team won first place in the Broward County Athletic Association (BCAA) Golf Tournament, or the "Big Eight," county-wide tournament. Monday's match took place at The Country Club of Coral Springs. Eight schools from around Broward County aimed for first place but only one team could come back with a trophy.
MSD proved that they were the best in the county and had their sights set out for more. MSD took their five best players to compete at BCAA. The golfers playing in the event were chosen by the rankings in the FHSAA iWannamaker app. This app ranks every player across the state based on their scoring average.
All of the five MSD players placed in the Top 12. The top three places in the tournament were junior Ryan Shimony with a score of 72, senior Dylan Marrone with a score of 71 and senior TJ Thompson with a score of 68. Thompson was the only player in the whole tournament to shoot under par, scoring a -2.
The Coral Springs course has a par of 70 which proved to be difficult to many players from around the district. MSD had the upper hand as this is where they train and practice for these exact tournaments. They definitely excelled because of a home advantage.
The BCAA tournament awards the top four individual players and the top two teams. MSD got first place with a score of 288. They were able to outscore runner up St. Thomas HIgh School by 17 shots, followed by Western High School in third.
Senior Dylan Marrone has worked and fine tuned his skills, proving to end up well as he placed second.
"I play this course almost everyday and a lot with the team so it's just more practice for districts," Marrone said.
Freshman Josh Lieberman, who shot a 79 placed 11th. He showed off his skills as being the only underclassmen representing MSD. The pressure was big but he was calm and collected and placed very well to help the Eagles' final score.
"I played really well but there's still room to improve for Districts and Regionals," Lieberman said.
The next match for the Eagles will be the district championship on Monday, Oct. 24 at The Country Club of Coral Springs. The Eagles are currently one of the best teams in the area and they're seeking back to back district championships to reinforce the Eagles' dominance.