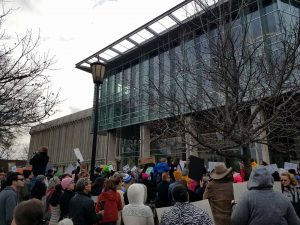 President Donald Trump's executive order to ban all refugees Saturday, Jan. 28, 2017 has caused an uproar not only on social media and news outlets, but also from CEOs of big name corporations such as Apple, Starbucks and Facebook.
In an effort to reduce terrorism and enforce national security, Trump signed an executive order that bans entry of immigrants from seven different countries: Iraq, Syria, Iran, Sudan, Libya, Somalia and Yemen with the intention to "keep radical Islamic terrorists out of the United States of America."
"There were numerous reports of students attending American universities who were blocked from returning to the United States from visits abroad," reporters Michael D. Shear, Nicholas Kulish and Alan Feuer said in a New York Times article Jan. 28, 2017.
This blockade of legal green card and visa holders has caused various issues including students being unable to attend universities such as Massachusetts Institute of Technology (MIT) and Yale on time.
"Not only is this executive decision largely detrimental to our worldly presence as a country, it also subjects our country to protests that tend to devolve into riots," junior Elijah Abraham said.
University students around the country protested against the new laws restricting family and friends from entering the United States.
"Trump's actions are hurting Netflix employees around the world, and are so un-American it pains us all," Netflix CEO Reed Hastings wrote in a Facebook post immediately following the announcement of the ban.
Others have commented on the history of America and how the country has prospered because of the diverse and bright individuals that populate the nation.
"We're upset about the impact of this order and any proposals that could impose restrictions on Googlers and their families, or that could create barriers to bringing great talent to the U.S.," Google CEO Sundar Pichai wrote in a company-wide email.
Apple Inc. CEO Tim Cook also expressed the company's disapproval of the ban through an email that stated if not for immigration, Apple would not be here today because co-founder Steve Jobs was the son of a Syrian immigrant.
"Trump's immigration ban is an immature and ineffective way to stop terrorism in the United States," junior Kevin Trejos said. "The ban will only endanger Syrian refugees and tear families from these nations apart."
Companies like Starbucks have even announced actions that will be taken in response to recent laws.
"We are living in an unprecedented time," Starbucks chairman and CEO Howard Schultz wrote in a memo sent to all company employees.
The memo listed the actions that Starbucks would take to "reinforce our belief in our partners around the world."
Schultz's company will focus on helping the people who have served U.S. troops as interpreters and support personnel along with those under the Deferred Action for Childhood Arrivals program, which protects undocumented immigrants who came to the U.S. as children to get driver's licenses, enroll in college and secure jobs.
According to a CNN article, Starbucks claims that it will hire 10,000 refugees over five years in the many countries where it does business.
Although many protests have erupted at large airports around the country and efforts were made by large corporations and organizations to remove the immigration ban, for now the executive order is in place and will continue to block citizens of the seven majority-Muslim countries from entering the United States for 90 days and refugee admission will be suspended for 120 days.