[Brief] Men's bowling team beats Piney Grove
Richard Doan
October 6, 2017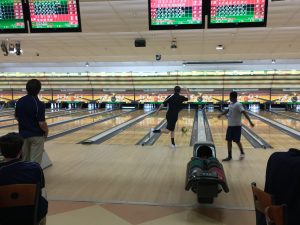 On Thursday, Oct. 5, the men's bowling team maintains their undefeated streak as they defeat Piney Grove Academy.
The team's performance was not quite up to par as previous games, but they still managed to emerge victorious by a large margin of 252 pins. The men's performances range from junior Tyler Frydman's 132 pins to senior Devon Weisenfeld's 194 pins in the second game. In the beginning, the men marginally broke a total 802 pins, but scored better in their second game with 826 pins. The team may have not played to their highest caliber, but are happy to come away with the win nonetheless.
"We started a bit slow with a few open frames in the first game," captain Scott Hafetz said.  "Even though I think we could have done better, we improved a bit towards the end and are happy with the win. I hope to continue our undefeated season in the games to come."
The next match will take place at Sawgrass Lanes Monday, Oct. 9 at 3:30 p.m. against their rival J.P. Taravella High.