Men's swim team takes on BCAA Championship
Christy Ma
October 8, 2017
The Broward County Athletics Association (BCAA) held its first swimming and diving championship on Saturday, Oct. 7 at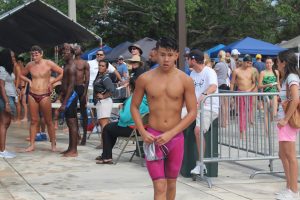 the Plantation Aquatic Center. High schools from all over Broward County such as Cypress Bay High School, Nova High School, Coral Glades High School and Marjory Stoneman Douglas High School were represented at the swim meet for preliminaries at 9 a.m. and finals at 4 p.m.
The MSD men's swim team prepared for the BCAA Championship through daily rigorous practice at the Coral Springs Aquatic Complex.
The team's work paid off as the times recorded for some members qualified for the Amateur Athletic Union's (AAU) Junior Olympic Games standards, one of the highest honors that a high school athlete can receive.
The standard time to qualify for the AAU Junior Olympic Games for boys aged 15 to 18 in the 50 meter freestyle is 30.19 but at the BCAA Championship, sophomore Cody Chin beat the standard time, finishing in 24.71. Another notable standard is the Junior Olympic Games 100 meter butterfly, which is 1:11.79 for boys aged 15 to 18, but junior Trevor Berkson overtook that time by finishing in 1:03.67 for the same event.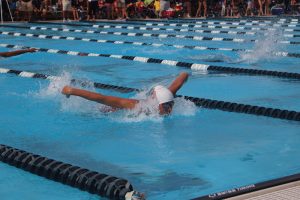 Although the men's swim team performed well based on the exceptional times that surpassed the Junior Olympic standards, some members felt like there could have been more preparation put into the meet.
"I prepared for this swim meet by going to the gym and practicing in the pool," junior Lorenzo Prado said. "But I feel nervous for this meet because I don't feel like I've prepared adequately. I will learn from this meet and learn what I did wrong to better prepare myself for Districts and other meets."
The District Swimming competition will be held at the Deerfield Beach Aquatic Center on Oct. 26 at 8 a.m. and will further determine if the team will advance to Regionals and States.