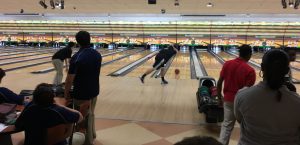 On Tuesday, Oct.10, the men's bowling team defeated Miramar High School as they keep up their undefeated record at Sawgrass Lanes.
The men continue to improve throughout the season as they came away with another win. Led by top scorers senior Devon Weisenfeld with 236 pins and senior Cameron Price's 223 pins. The bowling team had a solid start, totaling 826 pins in the initial game and finished strong with 860 pins in the second. Their spirited performance carried over to their baker game totaling 206 pins to sweep Miramar High School.
"I think we played fairly well," captain Ryan Schachter said. "It was a good win for the team today and with probably our toughest opponent coming up, we have to be on our best game. We have led an undefeated streak all throughout the season so far, but we will definitely be tested in our next matchup."
The next match will take place at Sawgrass Lanes on Thursday, Oct. 12 at 3:30 p.m. against Coral Springs High School.