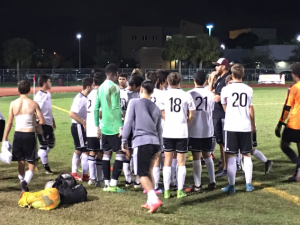 The men's varsity soccer team triumphed over their district rivals Boca Raton High School with a score of 4-0 on Tuesday, Nov. 28.
Striker Daniel Medeiros (10) was selected as player of the game with two goals, while midfielders Bryan Herrera (21) and Jean Pierro Alvarez (17) each scored one goal respectively. Justin Brod (7) and Diego Hernandez (4), also midfielders, assisted in one goal each. Goalkeeper Dillon McCooty saved two attempted goals from the enemy team.
"The boys won 4-0 tonight in their first district game against rival Boca High. It was a great performance. Thanks to everyone that came out to support," the team said via their Instagram, @douglas_soccer.
This is the team's first district win, raising their overall record to a total of 5-0. The team's next match is on Friday, Dec. 1, where they will be facing Cooper City High School away from the eagle's nest.