Junior Alyssa Fletcher qualifies for state cross country competition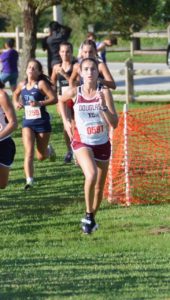 Daniel Pirtle
January 11, 2018
*This story was originally published in the second quarter issue of the Eagle Eye*
Many believe that to avoid getting lost in the shuffle at a heavily-populated school, students need to become as involved as possible. Any student that seeks proof of this theory needs to look no further than junior Alyssa Fletcher.
Fletcher juggles an extraordinary amount of activities. As the captain of Marjory Stoneman Douglas High School's women's cross country team, as well as a member of the lacrosse team, various clubs, Advanced Placement classes, DECA and other extracurricular activities, Fletcher has learned the importance of time management and has still found a way to achieve success in each of her activities.
"Once I entered high school, I knew I would have a lot on my plate. Whether it is school, after school clubs and honor societies, volunteering or sports, I make sure to put 110 percent effort into everything I do," Fletcher said. "All of the success that I have achieved is only possible because I have learned to manage my time and stay organized."
At a district meet at Tradewinds Park on Oct. 24, Fletcher found herself running alongside a rival from Coral Springs High School. As the runners entered the final stretch, Fletcher pulled away, winning the race by a wide margin.
"I can picture that day perfectly in my mind," Fletcher said. "I was neck-and-neck with a girl from another school, but mentally I was able to push myself to pass her."
This gave her a boost in self confidence that she used as motivation.
"I learned a lot about myself in that I should never give up on a goal, rather push further because I know I can personally do it," Fletcher said.
Fletcher's win surprised her, but her cross country career has been full of surprises.
"I started cross country during freshman year with no experience at all. I originally joined the team because I thought it would be good training for lacrosse, but it quickly became a sport that I participated in for the pure love of it," Fletcher said. "The people on the team are all nice and supportive, which made me feel like I was a part of something much bigger than myself, and I am so happy to be the captain of this amazing team."
Fletcher built off of her success at districts with another dominating performance at Regionals, where the team had a chance to qualify for states, for which only the top 15 individuals and six teams qualify.
"The girls' team was not ranked to be able to make it, and I personally was not ranked to individually qualify," Fletcher said. "After Districts though, I knew that there was so much more inside of me to exert, and I used it for this race."
Fletcher used her newfound confidence in her abilities to succeed at regionals, where she achieved the best time of her career.
"I ended up placing sixth overall and getting a personal best time of 20:03," Fletcher said. "I was so happy to have qualified for states, and I was even happier that the girls' team tied for third place as well."
Through all this pressure, Fletcher has not been fazed and has laid the blueprint for students who want to become as involved as possible while still enjoying their daily lives.
"It is important though to make sure to enjoy everything you do, which I do. Everything I participate in is because I am passionate about it, and I want to make a difference in that particular team or club," Fletcher said. "Everything takes time, whether it is the difference of a few seconds in a race or planning out the future week. But to live a healthy lifestyle and have time for family and friends, one must have the skill of balancing."
Fletcher plans to pursue a business degree after high school, but has not yet decided on which school she wants to attend.