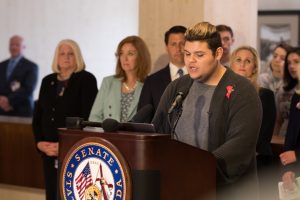 Exactly one week after the tragedy, about 100 Marjory Stoneman Douglas High School students traveled to Tallahassee to fight for a cause that they believe will prevent future acts of gun violence in schools. While it may have seemed too soon to depart from their families to some, these mourning students set aside their grief so that future students will not have to grieve for their fellow classmates.
There was a brief meeting for the students and parents who were planning to attend on Feb. 19, at Pine Trails Park. Students signed up and received permission slips and media release forms after being recruited by junior Jaclyn Corin, who helped coordinate the event with Sen. Lauren Book.
"I'm so glad so many students participated. I created the trip so that they could raise their voices, and they took advantage of the opportunity," Corin said.
On Feb. 21, students arrived to the Publix shopping center located on Coral Ridge Drive at around 1 p.m. There, they turned in their permission forms, were assigned to their groups and gave their families one last hug before heading off to the state capital. As students loaded the coach buses, the media followed. Some traveled on the bus with the students, while others promptly followed behind.
Once arriving to Tallahassee, MSD students were greeted by the students from multiple schools in the area at Leon High School. They hosted dinner and gave lots of hugs, love and support. Many MSD alumni who currently attend Florida State University came to greet their former classmates who traveled to the city, like 2017 graduate Julia Sherman.
"When I found out the Douglas kids were coming to town, I organized with my sorority… I just feel really empowered that we're able to help out with this movement, and I am so proud of everyone that's a part of it," Sherman said.
Then, Sen. Book and her colleagues made speeches sending words of encouragement to the students and expressing their support for their actions.
The night was spent at the Civic Center, where students were acknowledged by the president of FSU. Cots were arranged with goodie bags filled with notes of support from around the country. While some students went straight to bed upon arrival around 2 a.m., others chose to spend their time studying and preparing for their meetings the following day.
Upon waking up around 6 a.m., the students enjoyed a complimentary breakfast buffet with a heavy media presence and then were briefed by their chaperones. They were split into groups of 10 that they would speak with each legislator in. The students then packed their bags and headed to the capitol building.
One of the first meetings was run by President of the Senate Joe Negron. The room was filled with emotion, anger and of course sadness. The first comment in the room was by senior Samuel Feuerman, who attempted to evoke empathy in Negron by asking him about his own children.
Students had mixed feelings about how the meeting went; some felt as though there was a lack of sympathy on Negron's side. Many were frustrated with his vague answers, which gave no indication of his intentions with legislation on gun control.
The goal of this trip for many students was to sway legislators to implement stricter gun regulations. However, many legislators were able to deter the conversation from gun control to the hardening of our schools. While this frustrated many of the students, they did not fail to make their voices heard, describing their hard-to-hear stories and passionate words of advocacy.
Science teacher Tammy Orilio volunteered as a chaperone, hoping that a familiar face on the trip would help comfort the students.
"There was a range of emotions during this. I saw students grieving, excited [and] hopeful," Orilio said.
The students agreed that they wanted this to be a nonpartisan movement in order to obtain real action. However, several legislators continued to stick to extreme Republican and Democratic viewpoints and fought compromise.
By the last couple meetings the students were clearly exhausted. They were trying their best to hold themselves together, but could not help the tears that would make a reappearance every now and again. However, seeing the support of students from around the state outside protesting kept them going. Alumni showed their support and held the hands of the current student body for the duration of the press conference.
The last and most important meeting was held at the end of the day with Gov. Rick Scott. The groups combined into larger groups of about 30 students each. In each of the three sessions with the governor, the students gave feedback on proposed plans and suggested actions for the government to take.
The groups talked about hardening schools by implementing metal detectors and enforcing the use of school ID badge. However, the main focus was on the guns themselves. Many students pleaded with the governor to raise the age requirement to 21, but some students felt as though that was not enough.
After the meeting, the students got a chance to shake hands and take a photo with Gov. Scott. Many students received his email in case they had any further suggestions or questions.
The bus ride home was quiet due to the late hour and little rest received the night before. There was little to no media presence on the bus ride home. The media respectfully gave the hardworking students their space when requested to not interview students.
"We were well-received by the legislators," Orilio said.
Students arrived at the Publix shopping center around 4 a.m. There, they were greeted by more early morning news reporters and of course, their supportive parents.
Although there were trials and tribulations throughout the day, many students described the trip as a small victory on a long road to success. On March 9, a bill was passed to raise the age of purchasing assault rifles, as well as school safety laws increasing. For many students this is only the first of many trips to the state capital.