MSD's wind symphony performs at Carnegie Hall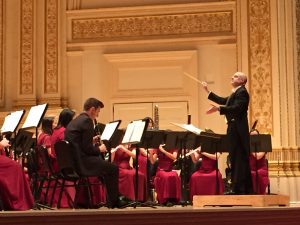 Just three short weeks after the tragedy at Marjory Stoneman Douglas High School, the school's wind symphony traveled all the way to New York to visit and perform at Carnegie Hall.
"We didn't want to give up this amazing opportunity, so we all worked together to remain strong and perform as well as we possibly could," sophomore Troy Archer said.
The trip was off to a rough start due to a strong storm, causing a delay in their flight. However, they maintained a good attitude and eventually made it to the Big Apple. Upon arrival, they were welcomed with open arms by New Yorkers all over the city.
For the first couple of days, the students and chaperones explored the city and practiced for their big performance in between each event. They visited Ellen's Stardust Diner and the Hudson River on a dinner cruise among many other exciting tourist destinations. The wind symphony attended the Broadway show, "Wicked," on March 4. All of the members of the band got the chance to see the show and enjoy the great music along with meeting the cast personally.
On Tuesday, March 6, the day consisted almost entirely of preparation for the big showcase that would take place at 8 p.m.
When they got the chance to perform they played "Symphonic Movement," "Symphony No.3 Finale," "Forever summer" and "Gavorkna Fanfare." One song, "The World Was a Secret," was written specifically for their performance by composer Jerome VanBuskirk. Their performance lasted about 35 minutes and was followed by five other performances by various orchestras.
Excitement filled the air as the wind symphony prepared to perform. The performance was followed by a standing ovation from the crowd. They won a gold trophy to show for their accomplishment.
"Everyone was really excited to perform since we had been practicing since the beginning of the school year and were finally ready," sophomore Katie Hebert said. "The most emotional part was the last song called 'Symphony No. 3 Finale' because everyone was crying for our school along with the band director and members."
While they were at Carnegie Hall, a special guest made a surprise appearance. Comedian Seth Meyers wanted to show his respect and support for the MSD students. His main message to the students was that they are taking something horrible and channeling it into something beautiful.
"It was so cool to meet Seth Meyers in person and hear him giving us such amazing words of encouragement," Archer said.
The trip ended even less peacefully than it began, with the storm still stirring and resulting in an even longer flight delay. The group, exhausted from an exciting adventure, made it home safely around 2 a.m.
The groups' next performance will be on Thursday, March 15 at Monarch High School.