Women's varsity volleyball team plays senior night game
Mallory Muller
October 4, 2018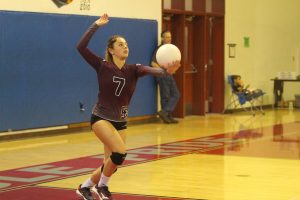 On Oct. 2, the women's varsity volleyball team took place on their home court against Deerfield Beach High School. Not only was this the last home game for the season, but it was also senior night.
The five seniors on the team were presented with flowers and a round of applause as they walked down the red carpet, greeted at the end by their parents.
"I have been on varsity for four years, so this was a moment I've been looking forward to for a long time," senior, libero Julie Piedra (6).
Piedra committed to Bethune Cookman University (Daytona) over the summer.
"I am sad it is my last high school game, but to be able to play volleyball at a division one school is going to be a great experience," Piedra said.
Piedra is not the only player to have committed. Senior, middle blocker Jessica Lopresti (25) is going to attend Troy University in Alabama next fall, following her volleyball passion.
Within the first few minutes of the game Lopresti made an impressive kill, hitting the ball with full force, baffling her opponents.  Overall, the Eagles played deceivingly, during the first set, surprising Deerfield Beach High with tips and hard hits.
Junior, defensive specialist Alexandra Aponte Torres (7) had a consistent streak of solid serves. She was able to serve both short and deep in order to keep her opponents on their toes. Her serving helped to keep Deerfield Beach High's score below 8,  giving the Eagles a 25-8 win in the first set.
By the second set the Eagles grew rowdier and more confident in their passes. Despite winning their first set, the Eagles seemed to have trouble calling for the ball.. However, the girls redeemed themselves in the second set by communicating more and playing with a greater sense of confidence.
"I was able to get better contact with the ball by second quarter," sophomore, outside hitter Keely Owen (4) said.
The score of the second set ended up being 25-5, keeping their opponents at a low score by playing good defense. The third and final set was a quick one, but also the closest their opponents would score to the victorious Eagles. The final score ended up being 25-17, securing the win for the Eagles' last home game.
The team's last regular season game is an away, non-conference match at West Broward High School on Oct. 4 at 6 p.m.