Varsity football team defeats Coral Springs High School in Pig Bowl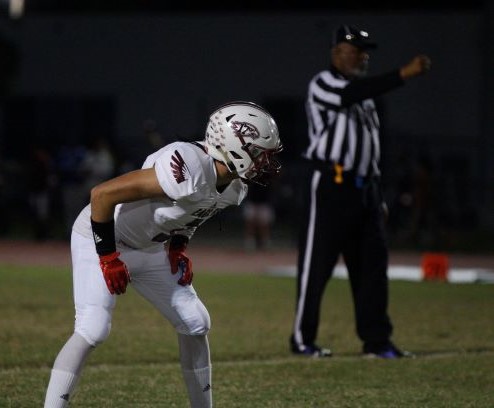 Hunter Fitz-Gerald
October 10, 2018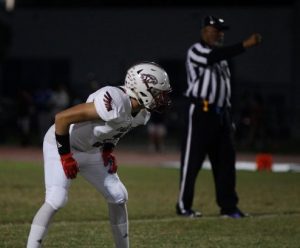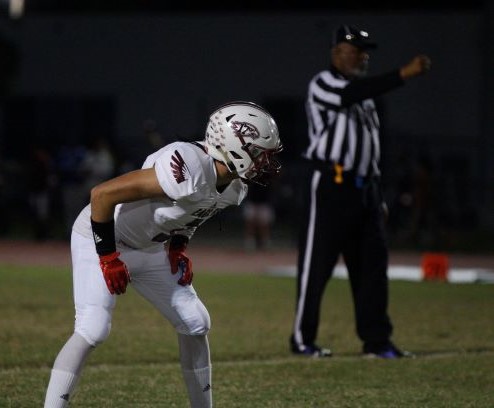 On Oct. 5, the men's varsity football team beat the Coral Springs High School Colts.
The annual Pig Bowl was played this year at Coral Springs High. As is tradition, the losing school's principal must kiss a pig. Luckily the Eagles had principal Ty Thompson's back this year, winning the game 21-0.
This is the fourth year in a row that the Eagles have beaten the Colts in the Pig Bowl. Thompson has been proud of the team and very thankful the past few years that he hasn't had to kiss the pig. The team hopes to continue this tradition for years to come and keep our principal safe from having to kiss the pig.
"It feels great being able to have won the past four years and it has given us plenty of confidence to continue to the streak for upcoming years," defensive back Christian Higgins (2) said.
It is always tougher playing an away game because the team does not have the crowd behind them. However, the Eagles did a great job battling and cancelling out the noise from the Coral Springs stands. The Eagles still had fan support of their own but, nothing compared to a home game at Cumber Stadium.
The Eagles' touchdowns came from running backs Alex Rodriguez (20) and Brian Smith (25) and quarterback Ryan Kavanaugh (16). The offense as a whole played well and were very energetic throughout the whole game.
"Our team is hot right now and everything seems to be coming together for us and I hope we are able to keep this type of playing up throughout the season," wide receiver Preston Sasser (12) said.
On defense, linebacker Aramis Warford (3) had multiple tackles and defensive stops for the Eagles. Assisting Warford was defensive tackle Charlie Rothkopf (55). Cornerback Dianjelo Amaya (14) helped shut down the Colts' wide receivers the whole game, which in turn helped the team get the shutout victory.
"It is great for us to win a big district game like to help improve our record and playoff hopes, this year has been great so far and I hope our team keeps battling and playing their hardest every game," Rothkopf said.
The Eagles have another away game matchup, this time against the Deerfield Beach High School Bucks on Oct. 12. The Bucks are a tough team and this would be a huge win for the Eagles to improve their district record. The team hopes to will out strong and continue their momentum from the past few games.