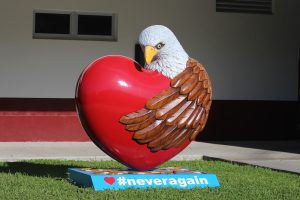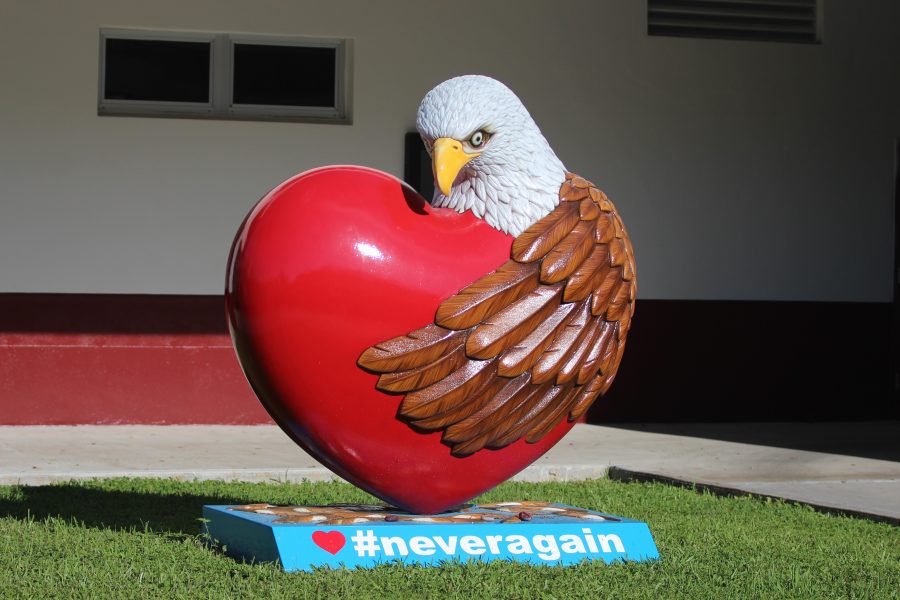 On July 5, 2018, Maggie Vidal-Santos, a middle school art teacher at Ruth K. Broad Bay Harbor K8, in Bay Harbor Islands, Florida, delivered a seven foot eagle sculpture to Marjory Stoneman Douglas High School, which was ultimately installed in the senior courtyard.
Vidal-Santos had donated a sculpture to Sandy Hook Elementary School in 2013. She felt the need to reach out and donate something similar to MSD to help with the healing process.
"We did something for Sandy Hook, how could we not do something for our neighbors?" Vidal-Santos said. "This really hits close to home, this could have been us."
Vidal-Santos' first idea was to create a sculpture because she felt that it would never be lost or forgotten about. She decided that it would be best if her students got to design the structure on paper and watch it come to life.
"After many sketches, I incorporated all of my students' ideas and came up with the final design of the eagle wrapped around the heart accompanied by 17 feathers towards the bottom to represent the students and teachers that were lost," Vidal-Santos said.
Sculptures, however, are costly to build, so the class knew that there had to be a system in place to raise the required funds. The eagle sculpture cost around $10,000 to create. Vidal-Santos decided to give a shirt to anyone that was willing to donate. Her students immediately reached out to shirt vendors and anyone willing to donate to the cause.
"I wanted something that would be viewed by everyone at the school as they walk by and it can be a lasting piece," Vidal-Santos said. "Once we decided on the sculpture, we designed a shirt to give to anyone that donated more than $10."
The final sketch was sent to a fabricator and a digital version was created. Once the three-month construction process was complete, it was time to transport the sculpture to its final destination — MSD. Vidal-Santos personally delivered the sculpture to the school.
"It was hard to get in contact with the school during the summer, but I needed to deliver it because it was done and the fabricator did not have much extra room to store the creation," Vidal-Santos said.
The eagle sculpture was originally placed within Marjory's Garden. However, the club's officers felt the sculpture would receive more exposure in a higher traffic area in the school.
Drama teacher Melody Herzfeld was extremely impressed by the sculpture, so she asked to have it placed in its current home, the senior courtyard, which is just outside of her classroom in the 700 building.
"It was bright, beautiful and larger than life, and when I saw it, it made me feel happy and protected," Herzfeld said. "Students and staff love taking pictures in front of it. I have to look at the 1200 building everyday; so, the sculpture gives me a contrast of hope and a heart full of love for the kids and staff members who have passed."
The staff was not alone in their gratitude; many students fell in love with the sculpture as well.
"I really love walking past the sculpture because it is a symbol of the lives lost but also a reminder that there are truly caring people in this world," junior Allie Lazar said. "I just can't believe that they went through such an extensive process to help out a school that they've never even been to before."
This story was originally published in the October 2018 Eagle Eye print edition.