MSD swim and dive team welcomes two new coaches
Katrina White
October 17, 2018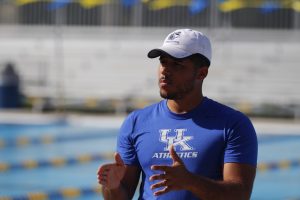 The Marjory Stoneman Douglas High School swim and dive team is making a splash this season with the addition of two new swim coaches: Julian Wynter-Anderson and Caitlin Hanley.
In June 2018, the former head coach,Lauren Rubenstein, was promoted to athletic director at MSD, leaving the coaching position open. Shortly after Rubenstein's promotion, she contacted Wynter-Anderson, a former swimmer and experienced swim coach, who was then hired for the position. 
Wynter-Anderson lived in Kingston, Jamaica for most of his childhood. When he was 12 years old, he moved to Atlanta before moving to Miami in 2010. He began coaching at local swim clubs five years ago. According to Wynter-Anderson, he is honored to be a part of the upcoming season.
"I'm excited for what [the swim team] can do this season. It's going to be one of the best ones yet," Wynter-Anderson said.
In addition to a new head coach, the team also has a new assistant coach, Caitlin Hanley. As a former swimmer and current environmental science teacher at MSD, Hanley was eager to contribute to the swim program.
Hanley is from Deerfield Beach; she attended Pompano Beach High School, where she was a member of their swim and dive team.
Both Wynter-Anderson and Hanley agree that mentoring and getting to know the swimmers has been one of the highlights of their season so far. 
The skill levels among the athletes range from swimmers with no prior experience to competitive, year-round swimmers.
"I like that we have a very diverse group of kids," Hanley said.
Wynter-Anderson and Hanley work together to adjust the workouts to fit each swimmer's skill and ability level and creating a training program that includes swimming and dry land work to help the swimmers achieve their individual goals this season.
"I am hoping to break more personal records this year," sophomore Bri Thirkell said.
Although the major changes within the team can seem daunting at times, the majority of the swimmers have maintained a positive and enthusiastic outlook for the upcoming season.
"I am excited for another season at Douglas, and I can't wait to make more memories at meets and team events," sophomore Victoria Veiga said.
An important goal for this year's swim team is to honor the legacy of the 17 students and faculty members who were killed on Feb. 14, 2018, specifically Nicholas Dworet, former captain and teammate for many of the current MSD swimmers.
This season, the swimmers compete and train with a new mindset: to swim for Nick.
"Put it all out on the line, in the pool, and do it in remembrance of Nick," junior Cody Chin said.
With help from their new coaches, the players on the swim and dive team hope to add to the legacy of excellence established by those who swam before them. 
This story was originally published in the October 2018 Eagle Eye print edition.