Senior Steven Erched caps off successful high school wrestling career at state tournament
Ryan LoFurno
March 11, 2019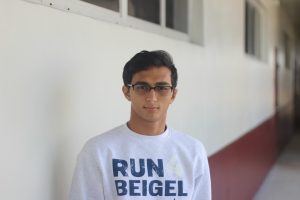 Wrestling captain Steven Erched capped off a spectacle of a high school wrestling career on March 9 after placing in the top eight for the Florida Class 3A of wrestlers.
Ercherd's wrestling career began to take off his sophomore year of high school. That year was his first to qualify for the FHSAA State Tournament, before then placing fourth in the 3-3A Regional Tournament in order to qualify. In his junior year he repeated his results in the regional tournament and once again qualified for the state tournament, racking up a season record of 36-3.
Throughout this time he also began to set his reputation on the team for being a good, friendly person.
"Ercherd's a guy of upstanding character, he's honest and is simply an amazing wrestler," junior Charles Reed said.
With the help of his team he was able to achieve the outstanding record he had. Finally, the highlight of his wrestling career came along his senior year, boasting another impressive season record of 42-2. This year, weighing in at 138-pounds, he won first place at the regional tournament, earning him the title of regional champion.
Once again this qualified him for the state tournament, and after winning two matches he placed in the top eight. He missed placement in the top five by just one round.
However, in the end he culminated a record of 143-29, with a win-loss ratio of 5-1. His record demonstrates Ervherd's success in the May, something that he said he couldn't have accomplished alone.
"It took a lot of hard work and I couldn't do it without my coaches, my friends, my family and everyone who was there to help me along the way and get to where I am today," Erched said.
Some of his other teammates also highlighted that Ercherd's legacy with the team was not just built off of his personal success, but that he was truly a mentor and leader for them.
"Erched was a good leader and teacher for the team," junior Trey Patton said. "He means well and was a great friend and I wish him well for the future."
Overall, Erched had a very accomplished high school wrestling career. He achieved a fantastic overall record, helped lead the team as captain and left his mark for wrestling at MSD.