MSD students create websites and Instagram accounts during the COVID-19 pandemic
Ivy Lam, Senior Feature Editor
May 21, 2020
One pair is MSD junior Josh Buchwald and his older brother Adam Buchwald, a freshman at the University of Florida. Their movement is called Promise to Humanity, which they created an Instagram and a website for.
"Promise to Humanity was created for important reasons. The first reason is that my sister has type 1 diabetes and she's very vulnerable and at high-risk for the coronavirus, so during this time of the pandemic, we wanted to keep her safe," Adam Buchwald said. "The second reason was that both sets of our grandparents are alive and we love them so much and we want to keep them safe. Number three was that we saw so many people on social media that happened to be on Instagram and Snapchat hanging out in large groups and spreading this virus uncontrollably, and we thought that was a major issue."
Their name, Promise to Humanity, was inspired by a previous organization that started a couple of years ago after the Feb. 14, 2018 shooting called Parents' Promise to Kids, which had parents sign a contract to their kids regarding voting for safety over guns. This organization was also co-founded by Adam Buchwald and his best friend Zach Hibshman.
"Our organization is striving each day to make a difference and spread our Promise to Humanity contracts," Josh Buchwald said. "We're not trying to force people to stay home, but what's so great about this movement is that it's long-term, so when after people come out of quarantine, these measures are still going to be in place."
The brother duo ask people to make a pledge stating they will protect themselves and others from COVID-19 by "wearing a mask, practicing social distancing (staying 6 feet apart), and following all safety measures in the efforts to save loved ones and slow the spread of the virus." They then ask that individual to take a picture with the contract, post the photo to one of their social media platforms (Facebook, Twitter or Instagram) and use the hashtags: #PTHGlobal, #PromiseToHumanity and #SafetyOverDisease.
"The goal of the organization is to not only create a contract for self integrity for an individual, but to keep reiterating that message of the common guidelines that have been stated through reputable people," Josh Buchwald said."We want to keep that message inside people's heads because eventually, people are going to let their guard down and they won't have that same mentality to keep social distancing and wearing a mask."
To spread their movement, the Buchwald brothers also ask for participants to tag and follow their social media. They request this so their Promise to Humanity accounts can repost their contributors. Retweeting on Twitter and sharing other's pictures and posts are also important in growing the organization started in Parkland, Florida.
"Social media has been a huge advantage to our movement between Instagram, Facebook, and Snapchat. Josh and I have been working for the last three weeks and putting in so many hours, staying up to 1:45 [a.m.] sending emails to news stations and celebrities," Adam Buchwald said. "We've been using social media to our advantage using hashtags or engaging a lot of people on Instagram."
Promise to Humanity continues to rise in popularity. As of now, the organization has received over a thousand signed contracts and have more coming in. The Buchwald brothers are also excited to say that one of the actors from Orange is the New Black, Abigail Savage, will be helping their movement by posting a picture with their contract.
"Persistence is key," Adam Buchwald said. "Josh and I are going to work every day and strive to make a difference, we're not giving up. I also wanted to say our movement is not political. We're concerned if people don't social distance, there's going to be a second wave that hits that's going to hurt all of us, so we're trying to prevent that now."
Other students who have created an Instagram account are MSD sophomores Addison Block and Amaya Sachs. Their community organization is named Contributes2Covid and they have paired up with the Florida SOS Children's Village, a foster care neighborhood located in Coconut Creek, Florida. Block and Sachs are requesting donations of non-perishable goods and toiletries the foster kids are in need of.
"For the past two months during quarantine, we have seen our world fall apart," Sachs said. "We realized that the necessities we need to get us through COVID-19 are not as accessible for everyone. We wanted to give back to our community, and this got us thinking about what we could do to help, and we produced Contributes2Covid."
Block and Sachs chose SOS Children's Village because both have worked with them in the past. Their list of items needed for donations came out on Tuesday, May 19, on their Instagram account.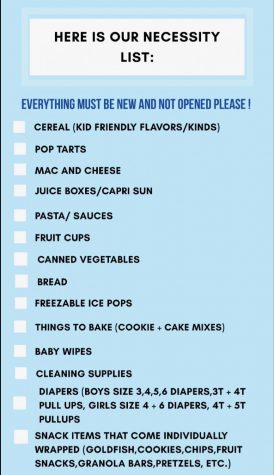 "Our goal with Contributes2Covid is to provide the less fortunate with the necessities they need that are more challenging for them to get," Block said. "We hope that we can make a difference in the lives of the kids at the SOS Village and get them the supplies that they need to make these tough times a little easier."
The two sophomores pick up any donations outside a donater's home every Wednesday and drop them off at the Children's Village each week. The pair work through a Google Document for those wanting to donate to their cause. The questions ask for participants' full name, address, gate code (if there is one), phone number and the location their donation can be found (at either their mailbox or front door).
"We are planning to spread the word about our organization through social media," Sachs said. "We decide to post the information that is necessary about how to get involved and what people need to know about our organization, and are currently working on our Facebook page that should be up soon."
Following Block and Sachs is another pair of MSD sophomores. Emily Nash and Isabel Kilman have started their movement titled Ascending Wellness, a project offering methods of de-stressing, like therapeutic art and ways to stay active, and community resources, like wellness centers and hotlines, on their website.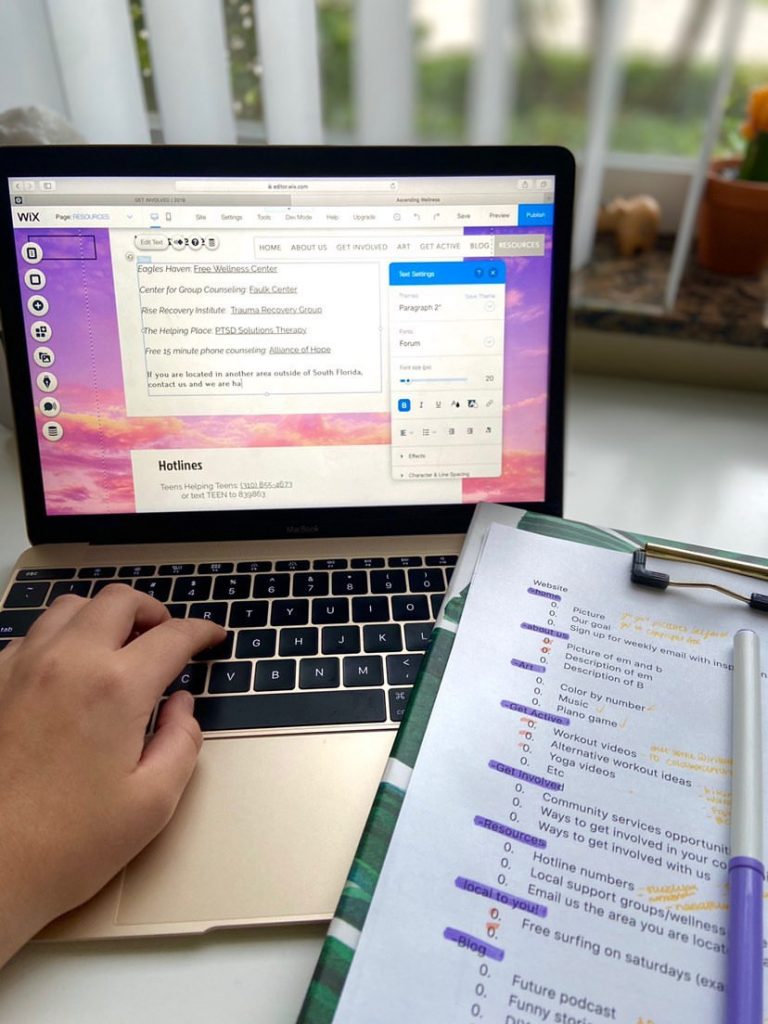 "I came up with the idea for Ascending Wellness because I wanted to do something for the people in our community, and I figured that if I did it virtually, it could extend beyond our community and help people everywhere," Kilman said. "We want people to know that wellness is an uphill climb, and we know that, but we also know that it is absolutely possible for everyone to get there."
Nash and Kilman powered their site through Wix, which has allowed them to customize, build and design everything featured themselves. They also have an Instagram for Ascending Wellness, a place where they like to share inspirational quotes and discuss topics important to them and in regards to current events for their followers.
"The goal and mission for this movement is to allow everyone to find comfort in knowing that we are here to help and provide the necessary tools to reach wellness goals," Nash said. "We hope Ascending Wellness can simply reach as many individuals as possible. We want to impact our community and how it deals with anxiety, depression, and other things that affect the journey to wellness by allowing them a place where they can manage these issues in a healthy and hopefully relaxing way."
With the world slowly reopening, students and their family and friends are still looking for ways to give back to their communities, whether it's from giving donations or spreading awareness. Despite quarantine, students at MSD continue to grow their movements every day through social media.