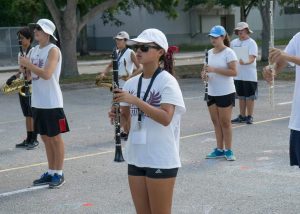 High school is a balancing act for most teenagers. But what happens when you add in a bunch of AP classes, marching band two-four nights a week, and attending football games while still keeping it all together? This is the life of senior Lia Groulx almost every week during the fall. Groulx has been a dedicated member of the Eagle Regiment Marching Band at Marjory Stoneman Douglas High School for four years and has been section leader of the clarinet section for three of those four years.
"My role as the section leader is to lead by example," Groulx said. "[I] make sure the section is informed of events or things they might need to bring to practice, teach them the music and basic marching skills, and help them with any questions or music they have trouble with."
She started playing the clarinet in sixth grade at Coral Springs Middle School. According to Groulx, her mom is a music teacher and they always bonded over their mutual love for music.

Even with her love for music, she confessed that she did have doubts about joining Eagle Regiment. Marching band has a very rigorous schedule and is very time consuming. However, she is glad that she decided to join.
"I am glad I am in band because most of my friends are in band, and I really like playing music," Groulx said. "It is hard to give up weekends and valuable sleeping/studying hours, but it is well worth the time. It is hard doing homework after a three hour practice." 
Groulx says that she has many nights where she is up until 2 a.m. trying to do homework.
Additionally, Groulx has a passion for soccer and has played for a total of 12 years, six of which were on a competitive travel team. This year is the first year that she has not played soccer. She decided to exclusively participate in band this year because she wanted to have a little more free time to relax and possibly run track once the marching band season ends.
"I still try to play pickup games and workout to make up for it. It is really hard to have to let go of soccer," Groulx said.
The Eagle Regiment had their first competition of their 2015-2016 season at Flanagan High School on Oct. 3. The students had to arrive for practice that morning at 9 a.m. for a four hour practice before getting a much needed three-hour break, only to come back to school to prepare for their competition. The bus returned to the high school about 12:30 a.m., after the performance. These are routine competition days for the Eagle Regiment, but even with these intense hours, Groulx enjoys competitive spirit.

"Competitions are the best of marching band. I get to spend plenty of hours each week playing good music in the outdoors with my friends," Groulx said.  
According to Groulx, the Eagle Regiment is successful because the leadership is mostly student run and marching band students are the most committed students in the school. They have a shared passion to perform and be the best they can at showing off their hard work and the show they practice. Groulx believes the Eagle Regiment has clear goals set for each practice and a perfectionist band director, so everything is done in an organized and systematic manner.
"Mr. Kaminski is an awesome band director," says Groulx. "He respects traditions, has tons of experience, and has a really good ear for listening to musicians playing in tune. He is always excited to see what the band can do next to improve our show and succeed. Mr. Kaminski transitioned smoothly and picked up right where we left off last year." 
Groulx's favorite memory from her last three years in the Eagle Regiment is from freshman year when she competed at the John I. Leonard Competition and it was also her birthday.
"We won first place and stayed and sat in the grass on the field after the competition, when the stands were almost completely emptied. Mr. Rusnak gave a speech about how proud he was of our performance," Groulx said.
Musical talent, hard work and dedication are words that describe Groulx.
When you drive past Marjory Stoneman Douglas High School in the evenings and see a sea of white shirts in the parking lot, keep in mind that Groulx and others like her are juggling academics with a rigorous extracurricular activity.