[Multimedia] Best up-and-coming musicians
Up-and-coming artists typically have a few hits and are acknowledged rarely, which makes them more modest compared to other megastars. There are thousands of emerging artists, but only a small portion of them become known icons. Most growing performers are forced to find a new career after falling short on the charts. However, there are a few up-and-coming artists that we believe will become ultra sensations.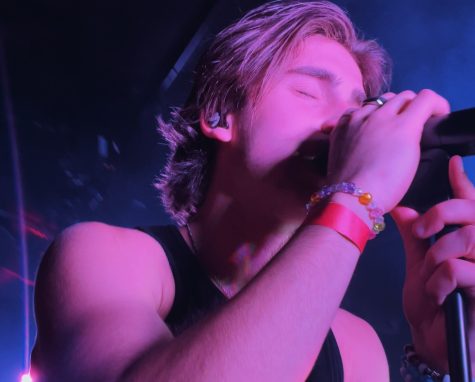 1. Johnny Orlando
A lot of people know the artist Johnny Orlando from the lip syncing app Musical.ly, which is now called TikTok. Although Orlando is a social media influencer, not enough people appreciate his music.
With 3.8 million monthly Spotify listeners, Orlando is bound to be the next Shawn Mendes. The pop singer became famous at just 8 years old in 2011 by covering songs, his first being "Mistletoe," originally sung by Justin Bieber. Orlando continued his music career by creating his own music.
After gradually increasing in popularity, Orlando's fame spiked when he began collaborating with artist and influencer Mackenzie Ziegler. In 2016, they released the song "Day and Night," which currently has 24.8 million views on YouTube. Two years later they released "What If (I Told You I Like You)," which reached a heaving 66.2 million views on YouTube.
"What If (I Told You I Like You)" continues to be his most beloved song, but people do not know about his other songs that have major potential to be big hits. Orlando recently released "someone will love you better" on Friday, Apr. 22, which already has 889.2 thousand views on YouTube.
All of Orlando's songs have a deeper hidden meaning behind the lyrics. As this newest song is about Orlando's friend who unfortunately lost feelings for their girlfriend and needed to break the news to her.
Another song of his from 2020 titled "Bad News" has 1.8 million views on YouTube. This song is about Orlando taking ownership of his actions and realizing he was in the wrong during his relationship. "Bad News" is unique compared to numerous other songs of artists, like Olivia Rodrigo, where they complain about toxic partners. This song is a great change of pace that everyone needs.
Orlando has released snippets of several songs on TikTok that he will be releasing in an upcoming album. Fans are ecstatic to hear the full versions of these songs, and we strongly suggest you check him out.
2. Zach Hood
On Orlando's current tour from Thursday, Apr. 21 to Sunday, May 8, social media influencer Zach Hood performed as one of his openers. This allowed Orlando's fans to discover Hood's talent.
Although Hood has appeared on the Global Viral 50 chart, not many people know of this AL pop artist. He first gained popularity by promoting his music on TikTok, which currently has 1.2 million followers. New to music, Hood had never even entered a recording studio until Sept. of 2020.
One of Hood's popular songs is "13 Missed Calls," which has 492 thousand views on YouTube. Like Orlando's, Hood's songs hold significant meanings that relate to his personal life. "13 Missed Calls" is about the time a girl broke up with Hood. Feeling down, Hood decided to put his phone down and cheer up at a party. However, when he picked up his phone, he noticed he had 13 missed calls from the girl.
His other song, "Pink Ferrari," reached 145.7 thousand views on YouTube. This song is written for his girlfriend, as he describes the bright future they will have together. A couple weeks before the song's release, Hood uploaded a snippet of the song on TikTok, where he tells his girlfriend he loves her for the first time. He gained 13.3 million views on this video.
"Isabelle" is a song of his that has reached 649.7 thousand views on YouTube. The carefree song is about a memorable, yet casual weekend Hood spent with a girl named Isabelle in Los Angeles.
His songs are perfect to jam out to in your car and shout at the top of your lungs and fans are looking forward to seeing what Hood will create next.
3. Evann Mcintosh
Evann Mcintosh astonished peers, family members and even teachers when they released their first single, "Better Now," in 2018 at the age of 14. In Oct. of 2019, they went on to release a full length album titled "MOJO," which accrued over 15 million streams in the first year. Following this popularity, Mcintosh was signed to Mom+Pop Music in April of 2020.
With breathtaking vocals and a creative mind, Mcintosh's music captures a diverse variety of genres including modern pop, R&B/Soul and indie.
Within the past year, Mcintosh has gained a generous amount of attention on Tik Tok, as their song "What Dreams Are Made Of" became popularly used for dancing and lip-syncing videos.
Mcintosh is an inspiration for younger generations, frequently touching on topics of both love and heartbreak through the lens of a queer adolescent. In Aug. 2021, Mcintosh released their latest album "Character Development." Being exactly what it sounds like, their album goes through the motions of discovering your identity as a teenager and developing as a human being.
With 42.7 thousand followers on Instagram, Mcintosh is continuously growing their platform through their spunky new releases as well as hilarious content on their social media platforms.
  4. Leith Ross
On Aug. 29, 2021, a Tik Tok user with the username @leithross  released a TikTok video of them singing an original song while playing the guitar. Viewers immediately fell in love with the gut-wrenching lyrics of the song, including the lines "depollute me, pretty baby, suck the rot right out of my bloodstream."
The video, now at 7.7 million views, was an instant sensation with fans flooding the comments begging Ross to release it in full on streaming services like Spotify and Apple Music.
On Sept. 21, they hinted on their socials that a recording of the full song was in progress. Finally, on March 25, 2022, Ross released the song with the title "We'll Never Have Sex."
The song is about finding someone who really truly loves you and is not just using you for your body. Leith also said in a TikTok comment section that it was about sexual trauma, asexuality, being trans and being queer. Since the release of their song, they have gained quite a following, with fans continuing to listen to their other music as well.
5. Peter McPoland
On May 16, 2020, Peter McPoland followed in the footsteps of many other young artists and uploaded a video to TikTok marketing his singing career.
In the video he shared a preview of his upcoming song "Romeo and Juliet." This love song is uniquely written from a boyfriend's perspective and deals with the emotions of young love and couples growing up together. After blowing up seemingly overnight, McPoland released a full acoustic version to Spotify on July 3, 2020.
After almost two years and several singles, McPoland is prepared to release his first full album. The album "Slow Down" is set to release on May 13, 2022 with seven brand new songs.
This past week, several videos surfaced on the internet of McPoland performing his new song "News At 9" at one of his concerts. Viewers are enthralled by his naturally raspy voice, which based on the live videos, does not seem to vary like other artists who use editing tools like autotune.