*This story was originally published in the first quarter issue of the Eagle Eye*
W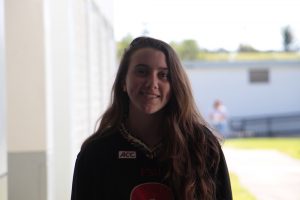 hen it was announced that sunny South Florida would be hit head on, houses were shuttered and highways were flooded with cars full of evacuating families. Marjory Stoneman Douglas families were concerned with Irma's impending effect on the area and many evacuated.
One of these families was junior Grace Thornburg and her family. The Thornburg family headed north upon hearing the news of the hurricane. They evacuated not one, not two, but three times. Realizing his family could be in potential danger, Thornburg's father's only concern was to get his family somewhere safe as soon as possible.
"My dad works in Fort Lauderdale, and he was getting a lot of notices, so he wanted us out of town," Thornburg said.
Before they left, her family made preparations to protect their home. They put up shutters and took all of their furniture inside.
"It was crazy and hectic; we were packing in a matter of an hour trying to get out," Thornburg said.
On the morning of Tuesday, Sept. 5, Thornburg began her trek to the University of Central Florida to get her brother before arriving at her next destination, Tallahassee, Florida.
"It took us days to get there; we used a gas finder app called, "GasBuddy," since we had to fill up so much more than usual," Thornburg said.
GasBuddy helped Thornburg's family ind the cheapest gas in the areas they traveled through.
"I was overwhelmed a lot, and I was angry; by the time we got to Tallahassee, we found out that the storm had moved and we never even had to leave Parkland," Thornburg said.
Once in Tallahassee, the Thornburg family once again fell in Irma's path, forcing them to seek new shelter in Jacksonville.
With safety finally underfoot, the Thornburg family's last and final stop was Jacksonville, where her family stayed until Monday, Sept. 11.
"This storm taught me to just listen to what my parents tell me because they know more than me," Thornburg said.
The Thornburg family's constant trek north kept them out of the storm's updated path; they wanted to confirm that they were completely in the clear.