Review: "Coco" captures the colorful traditions of Mexico
Anna Dittman
December 24, 2017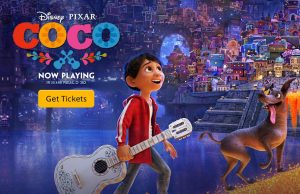 On Nov. 22, Disney-Pixar released their latest film "Coco," a fun and emotional movie that would be enjoyed by the whole family. Directed by Lee Unkrich, the movie has reached $453.6 million in the box office and was rated a 97 percent on Rotten Tomatoes.
In "Coco," young Miguel (Anthony Gonzalez) is an aspiring musician in a family in which music has been banned for generations. On Día de los Muertos, Miguel finds himself in the colorful land of the dead. He then takes the opportunity to go on a mission to find his idol, Ernesto De La Cruz (Benjamin Bratt), to prove his talent to him and his family.
The captivating animation and original plot makes this movie one of Pixar's masterpieces. They captured the bright and colorful traditions of Mexico accurately, using a culturally appropriate cast as well.
The originality made the film even more captivating. It teaches the importance of relationships and family and draws emotion from the audience with its characters and the stories of their lives.
The unique characters are also an important part of the movie. The audience feels an automatic sympathy for Miguel, who has a talent that he wants to share but is also afraid of being rejected by his family. When he runs into the mischievous Hector (Gael García Bernal) as well as his family, we begin to see the lesson of why family is so important.
The soundtrack of "Coco" is memorable with beautiful lyrics and traditional sounds of Mexico. It adds to the festive feeling and bright atmosphere of the setting. It is worth a listen even if you have not watched the movie.
Of course you cannot forget the plot twists. The one in this movie may have been predictable to the older audience, but when it came to the kids invested in the film, there were definitely gasps. Let's just say Ernesto de la Cruz will definitely surprise you in the end.
Overall, the movie was very enjoyable and heart warming. The release date was perfectly timed for the Thanksgiving season when families would all be together to experience this heartwarming tale. Pixar made yet another movie that can be enjoyed not just by children, but for the parents and teens as well.