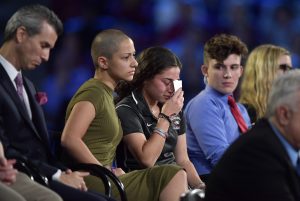 In the aftermath of the shooting on Feb. 14 at Marjory Stoneman Douglas High School, CNN held a town hall hosted by anchor Jake Tapper on Feb. 21 at 9 p.m. in order to give students and parents from the Parkland community a platform to discuss gun reform with Florida lawmakers. In "Stand Up: The Students of Stoneman Douglas Demand Action," Rep. Ted Deutch, Sen. Bill Nelson, Sen. Marco Rubio, NRA representative Dana Loesch and Broward County Sheriff Scott Israel answered questions from the community at the BB&T Center in Sunrise, Florida.
CNN also extended invitations to President Donald Trump and Florida Gov. Rick Scott. However, they both declined their invitations, including speaking to audiences remotely. Trump did hold a listening session on the same day though. He invited specific students from MSD, including seniors Julia Cordover and Sam Zeif. Trump also welcomed others affected by gun violence, such as Nicole Hockley, mother of Dylan Hockley, who was a victim in the Sandy Hook shooting.
CNN gave students of MSD VIP-seating tickets on the floor and on the stage. Select victims of gun violence sat front-and-center across from politicians and an NRA representative. Questions were picked from an email form sent out to students by a CNN producer.
Several outspoken students asked questions to lawmakers, beginning with senior Ryan Schacter, brother of victim Alex Schacter.
"My friends and I are worried that we are going to be murdered in our classrooms. What reassurances can you give me and what specifically are you going to do to make sure that we can't have this fear?" Ryan Schacter asked Rep. Deutch.
Rep. Deutch took a stance on stricter gun laws as a safety measure. Specifically, he mentioned the introduction of legislation to ban assault weapons.
While Democrats Rep. Deutch and Sen. Nelson assured their constituents in Parkland that they would work to find a compromise in gun control, Sen. Rubio gave unclear answers as to how gun reform would occur. Rubio also refused to give junior Cameron Kasky a concrete answer as to whether or not he would accept money from the NRA in the upcoming election.
Despite Rubio's complicated responses, all three of the lawmakers agreed that placing guns in the hands of teachers is an irrational notion, and that the age limit to buy guns should be raised to 21.
In the second half of the event, NRA spokeswoman Loesch and Sheriff Israel addressed the audience. Loesch attributed the shooting to the poor mental health of the gunman. She believes that gun reform should focus on the mental health of those purchasing firearms rather than general restraints on anyone who wants to purchase a gun.
AP World History teacher Diane Wolk-Rogers questioned how an 18-year-old purchasing a military assault rifle is considered a "well-regulated militia" as denoted by the terminology in the Second Amendment as "the right to bear arms."
By the end of the town hall, some students felt optimistic that change in regard to gun laws would ensue in the near future.
"I think this is the beginning of something big," junior Danielle Tylim said. "This is the first time that gun control hasn't been swept under the rug after a shooting. I just hope to see legislation come from this."
Despite the politicians' apparent agreement on various approaches toward gun control, others felt that the conversation reached a dead end, and politicians were just speaking to please the audience.
"I feel like the town hall was just a bunch of arguing, and it really did not get us anywhere," senior Joshua Katz said. "I think it's good that politicians were actually talking about gun control after a shooting, but it seemed like more of a debate than a conversation."
After a heated conversation between survivors and politicians, the night concluded in memoriam of the 17 victims. Max Schacter, father of Alex Schacter, read a poem his son wrote a few weeks prior to his death, which equated life to a rollercoaster.
Following the reading of Alex's poem, MSD Drama Club performed an original song entitled "Shine" about MSD's comeback from the events on Valentine's Day and its unison as a community in the aftermath.