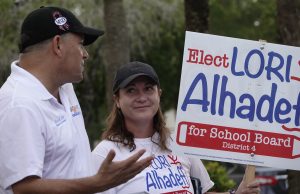 On Aug. 28, Broward County primary voters elected new members to the school board. Five of the nine total seats on the board were up for election — Districts 1, 4, 6, 7 and 8. Two of the candidates, Lori Alhadeff and Ryan Petty, lost a child in the shooting on Feb. 14 at Marjory Stoneman Douglas High School.
Alhadeff, who lost her daughter Alyssa, was elected to the District 4 seat that includes the area of Parkland between Parkside Drive and the City of Coconut Creek. Abby Freedman, the board member who previously held the seat, decided not to run for re-election. Alhadeff will be sworn in at the organizational meeting on Nov. 20.
"Lori Alhadeff asked me in a meeting a few weeks ago for my seat," Freedman said at a closed door meeting of administrators and teachers, according to a May 21 Sun-Sentinel article. "After crying five times during our meeting, I told her that if this seat could give her just one second of happiness, just one second, she could have it."
Alhadeff initially ran for the seat unopposed; however, two other candidates emerged by the June 30 filing date, including another MSD parent, Tennille Decoste. Alhadeff received 65 percent of the vote, winning the seat.
"I am so excited to represent District 4. On Feb. 14 my life changed forever. Alyssa was ripped from our family. I am using my grief in a positive way to demand action for change. School safety is paramount," Alhadeff said.
Petty, who lost his daughter Alaina, ran for the District 8 at large seat, which represents all of Broward County, challenging incumbent Donna Korn.
The Broward County School Board races received national media coverage. Both Alhadeff and Petty made school safety enhancements and new security protocols their prime concerns. They also campaigned for more accountability and transparency within the school district.
At one event, Korn described the previous school year as an "amazing" year, causing some community members to become upset, especially the families of the victims. Korn claimed that the statement was taken out of context and that she was referring to how well the district performed academically.
"This was in no way a comment on the state of security within our schools or to overlook the tragedy at Marjory Stoneman Douglas," Korn said in response during an interview with WLRN on Aug. 13. "It was an accolade to the students, teachers and principals who work hard educating our children every day and inspiration for even greater success this year."
Adding even more controversy to the race, Korn's campaign found a series of tweets from Ryan Petty's Twitter history, as far back as eight years ago, that were littered with racist, homophobic, anti-Semitic and pro-gun comments.
In an interview with the Sun-Sentinel on July 27, Petty said that he regretted some of his social media comments and explained that he is a different person now and they do not represent him.
"I'm not the same person. If you go through my Twitter feed, there's a marked difference from today," Petty said in the interview. "I stopped arguing about politics on social media. It's a waste of time. You end up making enemies out of your friends and it doesn't get you anywhere."
Ultimately, Korn defeated Petty to retain her seat on the school board.
In District 6 (Hollywood, Hallandale Beach and Pembroke Pines) former MSD teacher Richard Mendelson lost to incumbent Laurie Rich Levinson. In District 7 (Fort Lauderdale, Dania Beach, Davie, Hollywood, Wilton Manors and Lazy Lake) incumbent Nora Rupert beat Mike Olbel and Hubert St. Clair to retain her seat.
In District 1 (Davie, Lauderhill, Plantation, Sunrise, Tamarac and Weston) the race continues into the general election on. Incumbent Ann Murray will face off against Jim Silvernale, as they vie for the District 1 seat. Murray received 36.4 percent of the vote and Silvernale received 33.7 percent of the vote. Since none of the four candidates received the minimum 51 percent of the vote to win, Murray and Silvernale will compete for the seat on Nov. 6.
School board members serve four year terms, which expire in alternating election years. The next school board election for Districts 2, 3, 5 and 9 will be held in 2020. School board members represent over 34,000 employees and 270,000 students in the Broward County Public School system, which is the sixth largest school district in the United States.
This story was originally published in the October 2018 Eagle Eye print edition.