2018 midterm elections shift power in U.S. Congress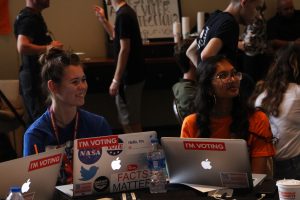 On Tuesday, Nov. 6, the 2018 midterm elections took place, marked not only by intense polarization, but also historic voter turnout rates.
This year, election issues were not just confined to the political world. With world leaders on Twitter, political advertising on Facebook and ad campaigns on Youtube, those of all ages were exposed to the debates presented in this year's elections. And because of that, political action rose significantly compared to other recent elections.
The voter turnouts were the highest they have been since the 1966 midterms, according to National Public Radio. There was a record 49 percent total voter turnout and an 188 percent increase in early voting compared to the 2014 midterms among 18-29 year olds according to the Atlantic.
There were certain key and heavily polarized races that had been major topics of discussion in American popular culture, such as the Texas Senate race between U.S. Representative turned Democratic candidate Robert Francis "Beto" O'Rourke and incumbent Republican Sen. Ted Cruz, the Florida gubernatorial race between Republican Rep. Ron DeSantis and Tallahassee mayor Andrew Gillum, and the Georgia gubernatorial race between Democratic Rep. Stacey Abrams and Republican Brian Kemp.
Polling times varied between states, with most polling stations opening at 7 a.m. and closing at 7 p.m.
One of the major goals of the Democratic Party leadership coming into this election was to take control of the House of Representatives. Prior to the election, election sites like Fivethirtyeight.com, showed these odds with a 7-8 chance of them accomplishing the feat.
On election night, these predictions were proven correct; the Democrats gained the 23 seats they needed to take the House and more. New Democrats elected to the House were the most diverse group of representatives in terms of race, ethnicity, gender and sexuality.
In the Senate, the Republican party held steadfast, widening their majority from 51 to 49 to 53 to 47. Not only did they defend their seats up for re-election, they flipped three seats in Missouri, Indiana and North Dakota.
Not all election results were widely accepted, though. In Florida, there was a major outcry over uncounted votes, specifically in Broward County, leading to speculation and controversy surrounding the gubernatorial and senatorial elections.
In addition to concern over uncounted votes, a recount was called for due to the small margin between the candidates, prompting Rick Scott, the current Florida governor and the Republican senatorial candidate, to sue Broward County's Supervisor of Elections Brenda Snipes over her management of the issue.
Florida, though, was not the only state with contested election results. The Georgia gubernatorial race between Stacey Abrams and Brian Kemp and the Texas senatorial race between Beto O'Rourke and incumbent Ted Cruz were hot topics, trending on social media throughout the night. Republicans won with both of these elections, though, Kemp and Cruz taking the lead by small margins.
Not only were the elections themselves indicative of America's shifting political climate, the voting trends were as well. In some ways, the results were similar to those in 2016, Democratic turnout was overestimated and Republican turnout come in later, but was still extremely strong. In other ways, though, the American public showed a shift in interest.
Voters under 30 and women favored Democrats this year over Republicans by a 35-point and 19-point margin respectively. Furthermore, white women established themselves as a swing vote, splitting their votes evenly between Democrats and Republicans; this was a major shift after the majority of them who voted Republican in 2014 and 2016.
Furthermore, a majority of voters made decisions not based on economic issues, as shown by the 68 percent of voters who believed the economy was doing "well." This illustrates a trend of  Americans viewing social issues and ideology as their major drive for voting.
If these midterm elections are indicative of a new political trend of involvement and polarization, then America is looking forward to a new age of political involvement, the likes of which has never been seen before.
This story was originally published in the January 2019 Eagle Eye print edition.