MSD students walkout in hopes of better mental health support at school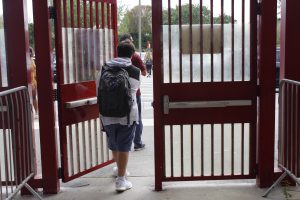 Students walked off campus on Wednesday, April 3, in order to call attention to Marjory Stoneman Douglas High School's lack of assistance regarding mental health. Through snapchat, students spread the word of the walkout, as well as shared their thoughts and opinions. At 10:48 a.m., right after second period, the walkout commenced and over 200 students, according to the front office, exited through the front red gates.
The idea to the walkout was brought up after both an MSD student and an alumna died by suicide within a one week period.
"I started the walkout for hope that something changes. Something with mental health needs to change. The way they care for the students," sophomore Bryan Lequerique said.
Students who walked out claimed to be unsatisfied with the way the school handled students after news of the suicides.
"I walked out because we weren't getting the help nor attention we need," said a sophomore who did not want to be identified.
Teachers received bananas to give out to students and told students that they are here for them upon returning from break.
"I'm just gonna put this out there… giving kids banana and asking them not to kill themselves without actually talking about mental health is NOT the mental health support we need at school," sophomore Lauren Hogg said in a tweet.
On the other hand, this particular walkout was controversial as there were many students who feel that the walkout was done for the wrong reasons and was used as an excuse to leave class.
"Extremely disappointed in today's walk-out. Fight with a purpose," senior Victoria Gonzalez said in a tweet. "I hope your pointless walkout attracting helicopters over campus was worth the trigger to many students. Hint: it wasn't."
While students walked out, some opted to attend an impromptu Q&A with assistant principal Teresa Hall in the media center about mental health. Once Hall heard of the plan to walk out, she announced the meeting this morning in hopes of making students feel heard. Students were able to voice their opinion and give feedback on the issue of mental health at MSD.
"I wanted to provide a platform for students to listen to their input, close the gap, and hear what's on their minds," Hall said.
The administration contacted the Broward Sheriff's office and Coral Springs Police department in order to ensure the students' safety as they walked off campus.
"In terms of consequences, a final decision has not been made as to what the outcome will be, but administrators will be meeting with as many students as we can possibly identify that chose to go ahead and walk out," assistant principal Daniel Most said.
Administration sent a parent link phone call regarding the walkout to parents.
"Eagle Families, at 10:50 a.m. today, approximately 200 students chose to leave campus without permission. All students were advised that I would be available in the media center during both lunches to receive feedback and input in regards to their concerns surrounding mental health resources being provided on campus. Several students participated in the feedback session. We will continue to provide opportunities for students to provide input. Administration will meet with those students who left campus. Thank you for your continued support and as always be positive, be passionate, and be proud to be an eagle," Hall said.
On Friday, April 5, students are coordinating a school-wide movement to wear purple and teal to show support for suicide and mental health awareness.
If you are in need of mental health resources, you can call 211 or visit eagleshaven.org or contact them at 954-618-0350 or visit their location in Coral Springs. You can also contact Professional Unite for Parkland to be connected to a mental health professional or visit pu4p.org, or email [email protected] You can also visit the resiliency center at Pine Trails Park.