Boca Raton High School students start #CoronaCant movement to connect people across the world
Ivy Lam, Senior Feature Editor
April 17, 2020
Despite the negative circumstances of the coronavirus pandemic, teachers and students from Boca Raton, Florida formed an organization titled #CoronaCant. The movement kicked off in mid-March.
#CoronaCant was co-founded by Luke Lynch, an alumnus from Boca Raton High School and current freshman at American University, and Jordan Hernandez, a Palm Beach County teacher.
The idea of #CoronaCant began when Hernandez heard concerns from students' parents. These parents suggested their children needed help coping with the effects of the coronavirus, especially during quarantine. Since school and many important events have been canceled due to the pandemic, students needed some way to connect with one another.
"I was getting phone calls from parents saying that their kids were feeling depressed and in a funk. I gotta tell you, as a teacher, I love going in every day, talking with people and seeing them become who they want to be in the classroom and in life," Hernandez said. "When that was taken away from me, I felt like I couldn't do what I was called to do, which is to be a storyteller. This movement has reawakened something. It's seeing students take on adult-like roles and become active, these are the future leaders of tomorrow."
Through this realization, Hernandez, Lynch and other Boca Raton High School leaders worked together to form #CoronaCant as an initiative to alleviate the sense of hopelessness. They did this by posting positive content in the form of videos, photos and features on their social media platforms, consisting of Instagram, Facebook and YouTube.
"It was a mutual understanding between both [Mr. Hernandez and I] that the onset of COVID-19 notably affected the student body around the whole nation," Lynch said. "Our biggest way to connect with other people is through our social media. Our goal is to ask our audience what they are doing in this COVID-19 crisis and tell their story. We're constantly featuring people and doing innovative challenges."
One example of these challenges was an Instagram Live collaboration with two students, seniors Gabe Jewelewicz and Alex Leondis, who are musicians from Boca Raton High School. The two had a showdown, playing different instruments, as a way to entertain and unite community members.
Lynch and the rest of his student-led team are trying to become creative leaders in this stressful time.
"We have a social media team that focuses on all our social media. Then we have a grassroots team, which focuses on expanding it in Palm Beach County and throughout Florida," Felipe Mora, a team leader of #CoronaCant and a senior at Boca Raton High School, said.
Other short clips that can be seen on the movement's social media accounts include workout plans, cooking challenges and talks.
"The CoronaCant movement started at my school and my friend, Felipe Mora, asked me if I wanted to upload a picture of myself. I feel that it's really important to get involved with things like this during this time because we all need to stay united," Courtney Clare, a senior at Boca Raton High School, said. "The CoronaCant movement has impacted me because it shows how we are all in this situation where we feel alone, but we are still able to come together to connect with each other online."
Several students from both Boca Raton High School and Spanish River High School have learned through the process of building #CoronaCant. While some worked on their marketing skills through social media, others collaborated with small business owners to help keep their business afloat.
These teenagers are taking on adult responsibilities. One student is Shea Whitacre, a junior from Spanish River High School in Boca Raton, Florida. She is the Chief Marketing Officer for the organization and assisted in creating the #CoronaCant website.
"The website and logo were the most important steps to establishing ourselves, and I am humbled that I had the opportunity to design both of these essential elements of our marketing platform," Whitacre said. "I have met some amazing people on this team from other schools and have strengthened many relationships by working cohesively together. This movement has inspired me to be productive instead of stagnant. We all need to take advantage of this time to improve every day."
From the initial work of Lynch and Hernandez, #CoronaCant has connected people from all over the country. Whether working a serious job or studying at a postsecondary school, the hashtag has brought positivity to a large community.
"I'm the Vice President of We Dine Together, a club that aims to help others in every way possible, and as a result, I was involved in the #CoronaCant movement as a member," Sofia Cortes Rodriguez, a senior at Boca Raton High School, said. "Once we had the idea of letting people know they are not alone in this situation, we decided to get it moving through social media to connect with others."
The organization uses videos, photos and statements for its work. For example, 20-30 second videos filmed horizontally may be featured on their social media, along with a speech from the contributor about what the coronavirus can't stop them from doing. On the other hand, vertical photos holding a #CoronaCant movement sign or helping the community can additionally show up on the organization's website, Instagram, Facebook or YouTube channel. Lastly, statements are featured on their Instagram and consist of "a 70-100 word statement that includes your name, where you are living, and how Corona has not stopped you," according to their website.
"#CoronaCant is a way to look at the bright side of the issue that is happening, and this is not only beneficial for an audience, but also for us. We also feel that we are not alone and we can keep moving [and] seeing the positive things in negative situations," Rodriguez said. "Personally, I think that this movement has let me know that I can do what I put my mind to. I want the audience to feel the same way, to feel they can do new things and succeed."
Featured on the Instagram page, for example, is Jhalia Diaz, another junior at Spanish River High School. She was introduced to the #CoronaCant movement by Samantha Hernandez, the Spanish River High School 2020 Teacher of the Year and the wife of co-founder Jordan Hernandez. Diaz's role in the movement is to help put together and edit content for its social media platforms.
"I believe the #CoronaCant movement is very special because it is exactly what we need at this time in our lives," Diaz said. "Through this time of difficult changes, this movement brings us positivity and proves that we can still stay connected while social distancing. It's impacted me immensely because I have the opportunity to make a difference in the lives of others."
Diaz has created, "Fort Talks with Jhaila," which highlights meaningful points of interest while encouraging laughter. For each episode, she selects a topic or theme that she believes can positively influence her audience. Furthermore, she includes hints of comedy to engage the viewers.
"My purpose is for watchers to walk away with something they can think about and take with them through the rest of their day," Diaz said. "#CoronaCant has brought so many people together, and I'm very thankful to be a part of such an amazing and talented team."
While Lynch and Hernandez are known as the co-founders of #CoronaCant, everybody involved shares the same amount of power. Everyone's ideas are kept and sent to their group chat to discuss.
"The main change makers and mountain movers are students from Spanish River and Boca High, who are working together in Zoom, and via phone and WhatsApp, to text and communicate and run the social media," Lynch said. "Mr. H and I are just so grateful to be able to work with such an incredible team. Everyone has the same value and the same movement in their voice. That's our team culture, we want to empower everybody involved, because when you empower the students who are leading this movement, you're showing the world that there is a creative and positive element to this crisis and that it will get better."
One of the biggest productions out of the CoronaCant hashtag was a Google classroom for students of Boca Raton High School and Spanish River High School. This Google classroom has provided a forum where resources on mental health and even snack recipes are offered.
"I think the movement is a great thing because we have to use technology in the best way possible. Sometimes, people don't really take advantage of technology in times like this, where we have to be socially distanced and quarantined," Pedro Cleto, a senior from Boca Raton High School, said. "I think we really need to use technology such as social media to communicate. It really shows the power of globalization."
Postsecondary schools such as the University of Florida, American University and Florida Atlantic University have also partaken in the growing movement on a collegiate level. As it continues to expand, the organization has become a universal message to empower the people, touch lives and spread positivity.
"This whole movement is meant to allow students to know that while this is a very serious and lonely time, it's also a time for self reflection, a time for innovative thinking and learning," Hernandez said. "I hope that people see this as an opportunity to take a creative approach to connecting with people, inspiring people, and to be honest, empower people."
As #CoronaCant grows in popularity, numerous schools, including Marjory Stoneman Douglas High School, have had students interested in becoming involved.
"I found the #CoronaCant movement on Instagram, and I thought it was an amazing way for people to show that although there is a horrible pandemic circulating the world, there is still a way to make light out of it and do what you love to do," MSD senior Ruby Harris said. "I submitted a video of myself singing 'Unwritten' by Natasha Bedingfield. I like to think that although my senior year is being cut short, my future is 'unwritten' and holds so much. I am personally moved from music, since it was something that I relied on during times when I was broken on the inside, so I wanted to share that with people who might be struggling right now."
As of now, the movement has sparked local and national attention. #CoronaCant has prompted the Boca Raton police, local government leaders and community members such as family to be involved by submitting and sharing their own #CoronaCant videos. Furthermore, plenty of opportunities have arisen for the organization such as being featured on WPTV Channel 5, CBS Channel 12 and Boca Raton publications.
"Right now, our main focus is to reach out to more and more people every day," Mora said. "Everybody during these times needs a little motivational assistance. So during these weeks, we are now just focusing on getting as much popularity, so more people can be impacted."
The movement has even reached other parts of the world, spreading as far as Wales in the United Kingdom and Stellenbosch in South Africa. People from Canada and Brazil have also participated.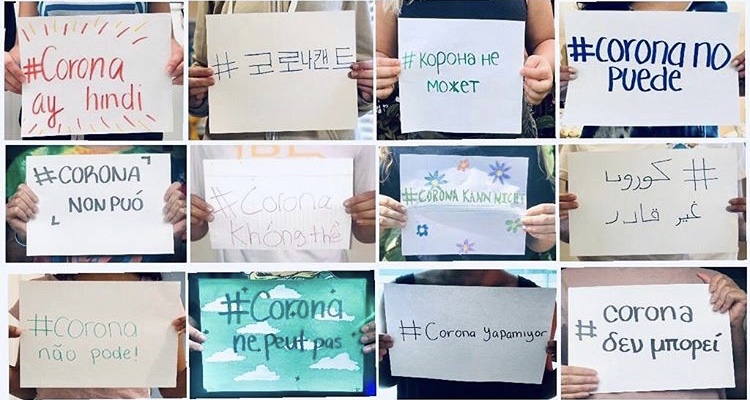 "As one of the leaders in this movement, I'm still as vulnerable and challenged as any other person in this critical time. I say that openly because it should be a shared commonality that this is a time where we need each other more than ever," Lynch said. "By working on this movement, I've gotten to meet more people around the world than I ever have before. I think that in the heart of times, we find light, and that light is what guides us and shows that we can be resilient."
To join the #CoronaCant movement, submissions of videos, photos and statements can be sent to [email protected] or by Instagram direct message to @coronacantt. As the COVID-19 epidemic continues, the movement plans to move forward to inspire change and connect people across the world.