MSD and the U.S. continue to navigate life with COVID-19 a year after its emergence into the country
Counting Cases
Fourteen months after its initial emergence into the United States, the COVID-19 virus has spread across all 50 states and infected 28,646,679 people nationwide. According to the CDC's COVID-19 Data Tracker, over 519,064 individuals in the U.S. alone have died due to the virus or complications of its infection.
Zooming in to a more statewide view, Florida has been the breeding ground for the virus since the 2020 spring break, with college students and vacationers flocking to the beaches and club scenes across the state. The Florida Coronavirus Community Action Dashboard reports that since March 1, 2020, there have been over 1.9 million cases reported statewide, along with 31,521 deaths caused by COVID-19. 
Across the state, many districts and counties have established their own versions of a tracking system. The BCPS Coronavirus Dashboard was created on Oct. 9, 2020, when campuses were officially opened to students. Five months later, BCPS reports a total of 3,774 cases in the school district alone. According to the data, BCPS students are receiving positive tests about 200 more times than those of teachers.  
Since its reopening date of Oct. 9, 2020, Marjory Stoneman Douglas High School has seen a total of 42 positive cases of COVID-19 from both students and teachers. Out of those cases, 18 were reported within the last 30 days. 
"There are 3,200 students who are enrolled at MSD," Assistant Principal Daniel Lechtman said. "Currently, only about 250 students are on campus."
Out of 241 schools in the Broward County area, MSD falls within the top 10 schools with the highest reported cases. Cypress Bay High School in Weston holds the spot of most cases with 55 students and 19 teachers testing positive for a grand total of 74 positive COVID-19 cases.
Continuing Education
From Aug. 19 to Oct. 8, 2020, BCPS stuck with the remote learning model of education called e-Learning Phase 1. During this time period only administrators, a few teachers and other select staff were on-campus at Broward County schools.
Students were not the only faces welcomed back at the start of Phase 2, a few teachers also made their grand entrance. However, 1,700 teachers still remained at home with an accommodation due to underlying health conditions.
But with students and teachers alike returning to campus, there was a looming concern amongst the community. How to protect everyone from COVID-19?
MSD took many precautions to keep its teachers and students healthy and safe while they continued to learn on-campus. The school was given a COVID-19 makeover featuring one-way directional hallways and staircases, socially distanced classrooms and a firm mask requirement. In a survey of 330 students, 59.4% reported that MSD enforces its COVID-19 policies at all times.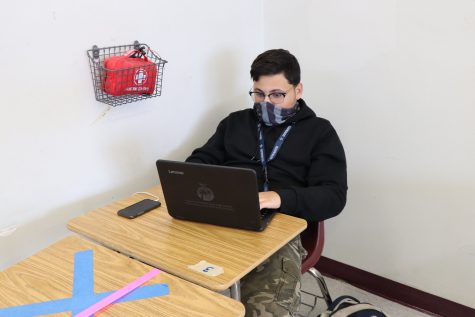 "There is hand sanitizer in almost all the classrooms, some teachers give wipes to clean your desk and some teachers try to pick a desk for you that other kids in the other periods don't sit at to limit the number of people in the same desk," junior Erika Wilczek said.
In order to limit the amount of paper shared and used amongst students and teachers, MSD has continued to utilize the learning management known as Canvas. Students are enrolled in each of their classes respective courses in addition to school-wide courses. 
Teachers upload in-class assignments, tests, quizzes, worksheets and much more to the site which allows students to complete their work without coming into contact with anyone else.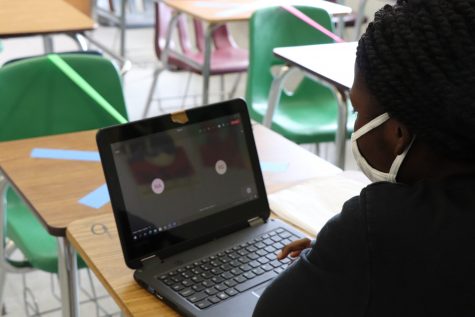 "I really like using Canvas for everything now," sophomore Lily Tomek said. "It makes completing assignments so much easier, and it's simple to navigate.
In a survey of 682 MSD students, 56.6% report that using Canvas has been easy for them. Even before COVID-19 came to the U.S. and shut down schools, MSD had integrated Canvas into its courses.
Athletic Despair
While precautions were being taken inside the classroom, it seemed as if the same could not be said for those on the field. As MSD slowly brought some sense of normalcy back into its students' lives, athletics were welcomed back with open arms. 
"I was super excited when MSD brought sports back," freshman Jake Steil said. "It's just such a significant part of the high school experience."
As the American past-time of sports were reintegrated into school life, there seemed to be a high number of game and practice cancellations as the season continued. Every sport, from football to bowling, had at least one postponement or delay during their seasons. Not every team was delayed due to home players, however.
"There were seven teams delayed [b]y COVID-19, either by having a COVID-19 positive player or playing a team with a COVID-19 positive player," Athletic Director Albert Guzzo said. 
In addition to delays, there have been many game cancellations due to the pandemic. 
"Things seem to be changing by the second," Guzzo said. "Numerous times we had to cancel games at the last minute. The teams are having a hard time finding their game flow with all the canceling and game changes."
A major cause of athletic infections is due to the fact that the players are not required to wear masks while on the field. Spectators, coaches and players on the sidelines are all required to wear masks during the game, but out on the field, it's free reign for COVID-19 to be passed between teams. 
Sports with a high amount of physical contact, such as football, do not leave room for social distancing to occur. There is no 6-foot rule when the defense is rushing the quarterback. This leaves both teams' players at risk, and in turn, anyone they may come in contact with.
When it comes to game day protocols, MSD has been utilizing the guidelines set by the CDC, Broward Health and the Broward County Athletic Association. These guidelines include limited spectators, mask requirements, social distancing and limited athletes on both the sidelines and team buses.
Many sports had the start of their seasons postponed and delayed. However, the MSD wrestling team had their entire season cut short, another sport with high physical contact.
"It is very hard to put into words," wrestling coach Kenneth Gendason said. "It was just devastating. It wasn't just about not competing in the postseason."
Three of the team seniors were stripped of their chances at participating and winning state competitions. Quinn Heller, the last remaining member of Chris Hixon's team, MSD's former wrestling coach and athletic director who was murdered in the Feb. 14 shooting at school, was on track to qualify for the state championships. He would have been accompanied by teammate Donald Goldstein. Josh Frais was also a contender for winning the state title.
"We would have qualified most of our team to the regional championship and would have contended with Olympic Heights [Community High School] for the district title," Gendason said. "Olympic Heights was the defending seven-time district champions. My heart goes out to [the] three seniors and another senior, captain Fenthon Aristhome."
Living With the Virus
Despite the local precautions and protocols put in place in BCPS and MSD's campus, some students and teachers were still exposed to the virus. Each individual had a different and unique experience when testing positive for COVID-19.
Yoga teacher Amy Kenny began presenting with symptoms of COVID-19 a week after attending a Christmas Eve dinner with individuals who she had believed were all non-carriers of the virus. 
"…I went and got tested and tested negative at first with an initial rapid," Kenny said "Two days later, I started feeling symptoms."
Once the fever and headaches set in, common signs of COVID-19, Kenny then returned to the testing center for two tests. When receiving her results, she tested positive on both rapid response and PCR tests. Her symptoms just continued to worsen so much, she had to rush herself to the emergency room.
"My symptoms got worse and worse until I could barely get out of bed I use the pulse amateur and at times in the evening it went down so low I was afraid for my life," Kenny said. "I ended up going to the emergency room for a chest x-ray and they had to give me fluids because my potassium and sodium levels were so low which is making me super weak and unable to fight the disease."
In addition to the lack of nutrients in her system, Kenny's gastrointestinal tract was compromised. She could not eat, leaving her increasingly weaker. Over the course of the virus, Kenny guaranteed with her boyfriend who had also tested positive. However, while he was recovering faster, Kenny was not. She isolated herself to a separate part of the house, wearing a mask whenever coming into contact with her boyfriend. 
"It was very isolating and very, very, very scary," Kenny said.
It took Kenny about a month to recover from the virus, but her senses of smell and taste never returned. During the first four weeks of her endeavor, Kenny was unable to even get up from her bed which hindered her ability to teach. 
"During the time I was quarantined I was so sick that I couldn't really do anything especially work," Kenny said. "I had to take so much time off work, and I couldn't be with my students I couldn't even put assignments up on Canvas."
When the vaccines were released to the public, Kenny decided it was in her best interest to get her two doses. 
"Overall, this journey has been a life lesson for me to be super grateful for my health, for my family and for modern medicine," Kenny said."
Kenny's colleague, geography teacher Ernest Rospierski, also tested positive for COVID-19 during January. When he was first asked to quarantine himself during December 2020, both of Rospierski's PCR tests came back negative. 
"I was getting ready to come back to school," Rospierski said. 
About a week later, he began to display mild symptoms of the virus and went to get his third COVID-19 test.
"I started to feel a little funny, warm but no fever and just dragging a bit," Rospierski said. "[The next day I] went to get a rapid test just to make sure, within the hour it was positive."
Not 24 hours after receiving his positive result, the symptoms presented themselves in full force. Chills, hot flashes and a never-ending headache berated Rospierski for three days. During this time, Rospierski's wife and son tried to out-run the virus by staying at his mother-in-law's. However, they also received positive results when tested. 
"So, for about a week I was left suffering by my lonesome," Rospierski said. "Eventually, I got smart and called a pulmonologist to help get me back on track."
The pulmonologist, a doctor who specializes in the respiratory system, prescribed Rospierski the medicine he needed to recover. Unlike Kenny, Rospierski was aided in his teaching by a student-teacher who helped him keep his classes on track.
"I was able to just make it through the school day, but since I have a student teacher this semester I did not have much to do as he did most of the heavy lifting," Rospierski said."
After a month of quarantining with his family, Rospierski fully recovered with none of the common long-term effects.
"[COVID-19] is not something that is fun to have or something to be scoffed at," Rospierski said.
Teachers were not the only people who had an experience with the COVID-19 virus. Sophomore Emma Betancourt was also exposed.
During October 2020, Betancourt began to feel ill one day. She was experiencing a high fever, sore muscles and an overall feeling of being sick.
"It was actually really bad," Betancourt said. "I was mostly just sick for one day, like really sick, and then it got better, and I just had a runny nose and stuff."
Once she started to present with symptoms, Betancourt immediately got a rapid response COVID-19 test, and 20 minutes later she was given the positive result. Unlike Kenny and Rospierski, Betancourt's symptoms were not too severe that they impeded her ability to participate in school.
"I got [COVID-19] during Halloween, so I could not do anything with my friends for Halloween," Betancourt said. "I wasn't really doing any sports at the time, so nothing else really got messed up."
Luckily, Betancourt did not spend her quarantine period alone. Both her mother and sister received positive diagnoses on their COVID-19 tests, leaving the three women to have each other's company.
"I talked to friends during those 14 days," Betancourt said. "I remember being really, really tired. So, I spent most of my time sleeping, honestly."
After recovering from the virus, Betancourt's smell was slightly affected. 
"My sense of smell is kind of weird now," Betancourt said. "It's not that I can't smell. It's just, I don't know, like, different."
While Betancourt was left with an altered sense of smell, junior Michael De Oliveria had a very different run with COVID-19.
De Oliveira differed from his teachers and peers that tested positive in a major way. He was asymptomatic, which meant that he did not present with any symptoms of COVID-19. The only reason he got tested was that other members of his household were feeling ill.
"Some of the people in my house were feeling sick, so we all just went to get tested together," Oliveria said. "It took about two weeks to get our results back, though, which definitely sucked."
When the results finally did arrive, everyone, including Oliveria, had tested positive for the virus. And so began the two-week quarantine.
"I just didn't get out of my house," Oliveria said. "Everyone was already sick anyways, so we just didn't distance ourselves from each other."
Oliveria was not only lucky to be asymptomatic but he was diagnosed just before the campus was reopened, so his academic productivity was not affected. However, he did take the time to try some new things around the house.
"I tried to learn new skills and hobbies," Oliveria said. "I tried drawing, pen spinning, skating and even changing my clothing style."
Oliveria recovered in full, with no lasting effects from the virus.
Freshman Trista Mungal and her family also fell victim to the disease.
"I thought the virus was a joke and it really wasn't killing people like they said it was," Mungal said. "Until I experienced it."
When her dad was admitted to a hospital with shortness of breath, Mungal's family went and got themselves tested for COVID-19. All of them received positive results. For the following three weeks, Mungal and her family kept themselves self-quarantined.
"I quarantine with my family since we all tested positive," Mungal said. "I kept myself occupied by going to class and playing with my dog."
Despite using online school as a distraction while being quarantine, Mungal found it difficult to complete the work she was assigned. Her symptoms were minor compared to others, but the cough and body aches she endured made it hard for her to function normally.
Mungal recovered fully from the virus with no long-term effects. However, not everyone in her family was that lucky. After being admitted to the hospital for 35 days, Mungal's mother passed away due to COVID-19.
"This virus left a huge impact on our family," Mungal said. "We lost the person that we talked to every day, that took us to school, who gave us life, who made sure we had everything. We will never get to talk to her again or see her."
Since then, Mungal and her family have been major supporters and advocates for wearing masks in public in order to stop the spread of the virus. 
"We wear our mask to prevent people from dying and having to go through this kind of pain, that should have never happened in the beginning," Mungal said.
Tracking the Spread
To further protect its students and staff, BCPS created its COVID-19 Dashboard. Each positive case of the virus is tracked and reported by the Broward County Health Department. 
"The Dashboard represents data for reports made directly to school nurses (which are then forwarded to Coordinated Student Health Services), to the District's Risk Management department and notifications sent to the District from the Florida Department of Health (Broward County)," BCPS Chief, Safety, Security & Emergency Preparedness Division Brian Katz said.
After a student or teacher is reported to have tested positive, the information is transferred from the school nurse to the county in order for the case to be counted. The dashboard is updated every Tuesday and Friday using the data from the prior evening.
"The District receives reports regarding students and staff members, regardless of whether they are engaged in on-campus learning.  This would include anyone we know was on campus so it may include facilities staff, District personnel, etc," Katz said. "Because the goal of the Dashboard is to illustrate the cases impacting a specific District site or campus we try to filter out the remote/virtual cases from the in-school cases."
In addition to reporting cases, MSD has also continued the practice known as contact tracing in order to determine if any other students or teachers are at risk of becoming infected. Teachers record the seat number of each on-campus student during attendance and ensure that no one who later tested positive may pass the virus on. 
"We keep track of all students in every class through seat numbers, and we make sure that if a student or staff test positive that we follow CDC guidelines contact trace, anyone that might have been in close contact," Assistant Principal Jay Milmed said.
The CDC guidelines for contact tracing state that any "close contacts," meaning someone who was within 6 feet of the person who tested positive without a mask, should be self-quarantined for 14 days and be tested for COVID-19. 
Socially distanced classrooms, seats separated by at least 6 feet whenever possible, limits the amount of student and staff exposure to the virus. Teachers and students at MSD are to remain socially distanced at all times, including lunch periods. There are socially distanced lunch areas both inside the cafeteria and outside in the courtyard.
"I usually eat lunch outside with a few of my friends," Steil said. "But we always stay separated, and we don't share our food or anything like that."
Out of 330 MSD students, 58.9% say that all students and staff consistently wear their masks at all times.
Teachers in Peril
As the second semester of the 2020-2021 school year began, so did the second half of e-Learning Phase 2. 
Despite the original allowance of 1,800 teachers with special cases to remain at home during Phase 1, BCPS decided that all teachers must return to their classrooms starting on Jan. 11 regardless of previous health or medical conditions. The teachers of BCPS did not take this news well and questioned the decision of the district. 
The Broward Teachers Union decided to fight back against this ruling in order to support the safety and well-being of their teachers. According to Anna Fusco, the president of the BTU, about 90% of Broward teachers were back in their classrooms. Those teachers showed up to basically empty classrooms as only 20% of BCPS students had returned to campus for face-to-face learning.
"They are at the highest risk, they have heart conditions, they have sickle cell, they have cancer, COPD, I have people with one lung, lung disease, kidney disease–these are legitimate reasons that have qualified," Fusco said in a Jan. 7 interview with Local 6 News. 
When the order to return to schools was delivered, the district on a school-by-school basis granted only 600 extensions for the second semester. BCPS gave their teachers a decision to make: take an unpaid leave of absence or return to campus. Many teachers saw this as an ultimatum between their livelihoods and their lives. 
BCPS Superintendent Robert Runcie took the position that allowed too many teachers to remain at home. 
On Thursday, Jan. 7, the BTU filed a lawsuit against the district seeking an injunction to prevent the district from forcing vulnerable and medically unsound teachers to return to campus and in turn be at a higher risk for infection.
"I have two teachers in ICU right now, two in ICU, and they're still working remote on oxygen tanks," Fusco said in a Jan. 7 interview with CBS Miami News. "And you know what their principals told them? I expect you back to work on Monday or take a leave."
On Jan. 26, the arbitrator of the lawsuit in the Broward County Circuit Court ruled in favor of the school district, solidifying the district's demand for teachers to return. 
"Our schools aren't sources of spread for the pandemic," Runcie said to Local 10 News. "The schools are safe. I would say they're probably safer than going to the grocery store or to the mall." 
Despite Runcie's claim of immense safety from the virus, eight teachers at MSD were recently forced to self-quarantine when one tested positive for COVID-19. The group had been regularly eating lunch together inside of a classroom, failing to follow MSD's precautions. 
Click here to read more about this issue.
Viral Vaccination
After many months of widespread fear and uncertainty surrounding the COVID-19 pandemic, 2021 provides the U.S. with a new sense of hope.
The U.S. Food and Drug Administration has approved three different vaccines as of Feb. 27. Each vaccine was created and tested by a different company, yet all have the same goal at the heart of it; stop the spread and eradicate the COVID-19 virus. 
The first vaccine to be administered was created in a joint effort by the U.S. pharmaceutical company Pfizer, and German biotechnology company BioNTech. The two companies' international collaboration received an Emergency Use Authorization from the FDA on Dec. 11, 2020. As the very first vaccine to complete medical trials and receive the FDA stamp of approval, there have been 43,373,717 doses administered according to the CDC COVID-19 Data Tracker. Taking into consideration that each individual must receive two doses that means that over 21.6 million people have received the Pfizer-BioNTech vaccine.
On Dec. 18, 2020, Moderna, the biotechnology company based in Massachusetts, was the second vaccine to receive a EUA from the FDA. Since then, there have been 41,507,728 doses administered based on the CDC COVID-19 tracker. As with the Pfizer-BioNTech vaccine, Moderna requires two doses to become effective. Therefore, the Moderna vaccine has been given to over 20.7 million people nationwide.
The most recent addition to the COVID-19 vaccine market was created by Janssen Pharmaceutical Companies of Johnson & Johnson, a widely-known family company. 
Receiving their FDA approval on Feb. 27, the third vaccine is currently the only available single-shot vaccine, setting it apart from its predecessors. 
 "We believe the Johnson & Johnson single-shot COVID-19 vaccine is a critical tool for fighting this global pandemic, particularly as it shows protection across countries with different variants," Vice-Chairman of the Executive Committee and Chief Scientific Officer Paul Stoffels said in a Johnson & Johnson company release.
The demand for the COVID-19 vaccine is far above its supply in Florida. Across the state, there are several sites that are administering the vaccines; however, there are some requirements that must be met before someone can receive their first dose.
At the beginning of vaccine distribution, there were select four groups that were granted the opportunity to receive their doses, as long as they made an appointment. Those eligible included people over the age of 65 years old, health care personnel who have direct patient contact, residents and staff of long-term care facilities and people under 65 deemed to be extremely vulnerable by hospital providers. 
Recently, Florida Governor Ron DeSantis expanded the groups with eligibility to receive the vaccines within the state. On March 1, four new groups were added to the list; people under 65 years old deemed medically vulnerable, K-12 employees over the age of 50, law enforcement officers over 50 years old and firefighters over the age of 50, effective March 3.
On Tuesday, March 2, President Joe Biden directed all states to prioritize school staff and daycare providers for vaccine distribution. The following day, March 3, CVS pharmacies in Florida, who receive their vaccine supply directly from the federal government announced that they would align with the federal recommendations and offer vaccines to all school staff and daycare providers regardless of age, despite DeSantis's state order to offer it only to those over 50.
On March 3, DeSantis held a press conference and authorized all vaccine locations to administer vaccines to school staff and daycare providers of any age. 
Many MSD teachers rushed to make book their own appointments at CVS, Publix, Winn Dixie, Walmart and Sam's Club locations. Some traveled to the FEMA vaccination site at Miami-Dade College in Miami. Others made appointments through the Broward County Health Department and were scheduled at a local park. 
Culinary teacher Ashley Kurth had her first dose of Pfizer at Tradewinds Park in Coconut Creek on Thursday, March 4. 
"I felt relief for myself and family for being a bit more protected," Kurth said. "I know I have to work, and I enjoy it, but when I have no control over what other people around me at work are doing in their own lives around me it gives me anxiety. Story by Ava Steil
This story was originally published in the March 2021 Eagle Eye print edition.