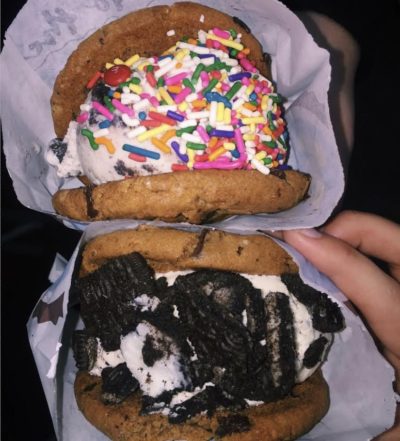 Cream, a brand new ice cream shop, has opened, specializing in ice cream sandwiches.
There are two store locations in Florida, one in Aventura and the newest addition in Weston that opened on Saturday, Jan. 28. A shop will also be opening up in Pembroke Pines soon.
I went to the new location in Weston, excited to see and to taste the desserts. It was only a few days after the grand opening, so the line was extremely long and even extended out the door. However, employees were quick and polite, greeting customers and handing them menus as they got in line. The menu listed items such as: fresh-baked cookies, premium ice cream, toppings, brownies, sundaes, coffee drinks and more.
The store was clean and the environment was fun. Everyone seemed to be enjoying their time. When I finally reached the front of the line, everything was displayed on a long counter which customers are separated from by a clear glass border.
The employee first asked me what kind of cookie I wanted and I chose chocolate chip for both sides of the sandwich. There are 23 delicious flavors of ice cream and I decided on coconut. Finally, I chose Oreos for the topping on the sandwich.
When paying for my dessert, I was surprised to see that it was not as costly as I had expected. Surprisingly, this was the best ice cream sandwich that I have ever had.
I would gladly visit Cream again. Pay a visit to this new, fun ice cream sandwich shop to purchase mouth-watering desserts.