Senior Abby Wolk commits to Wesleyan
Suzanna Barna
November 9, 2017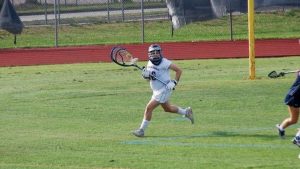 *This story was originally published in the first quarter issue of the Eagle Eye*
Playing for over 10 years, senior Abby Wolk dedicates about eight hours each week to training as a goalkeeper in lacrosse.
From kindergarten to now, Wolk cherished her time playing on lacrosse teams, such as LaxManiax, Stealth and the Marjory Stoneman Douglas High School varsity lacrosse team.
Traveling across the whole country with LaxManiax, Wolk has formed unbreakable bonds with her long time teammates who live throughout Florida.
"I have grown up with a bunch of my teammates and they really have become my best friends. At every practice and game they push me to work my hardest and be my best," Wolk said.
Wolk began her journey to her commitment when she attended Elite 180 Lacrosse Camp in Keene, New Hampshire during the summer of 2016. Here, the future Wesleyan coach was simply a training coach for the camp.
Taking interest in Wolk, the coach remained in contact with her about upcoming tournaments and her life as a high school student.
Wolk admired the university's priority of being a student before an athlete in preparation for the world after college. When the first date for colleges to offer commitments in the New England Small
College Athletic Conference came, July 1, the coach officially offered Wolk a spot on the team which she graciously accepted.
Valuing academics, Wolk wants to major in physics or computer science at Wesleyan.
The college was nominated for a bid for the NCAA tournament in 2017, but did not win.
In the future, Wolk aspires to help the team move further in the NCAA tournament, hoping to win it all during her years with Wesleyan.