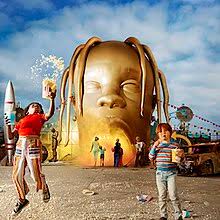 Rapper Travis Scott dropped his highly anticipated album "Astroworld" on Aug. 3, 2018. This album has quickly broke records, as all 17 songs are on the Billboard Hot 100 Chart.
Travis Scott, who's real name is Jacques Webster,  was born in Houston, Texas. He is known for his rapping and also as the father to superstar Kylie Jenner's baby, Stormi. Scott's last album "Rodeo" dropped in 2015.
Astroworld's theme seems idiosyncratic from many other artists' albums with a different kind of sound. Some fans have even said Scott has changed the way rappers will continue to make music with his space-like beats and trippy vocals. Featured on the album are acclaimed vocalists and rappers such as Kid Cudi, The Weeknd, Sheck Wes, Gunna, Frank Ocean, Drake, Migos and Juice WRLD.
To promote the highly anticipated follow up to the album, "Birds in the Trap Sing McKnight," Scott had a gigantic gold head made of himself, big enough to walk through, with medusa-like snakes for hair pop up on landmarks nationwide. This head has been spotted in Houston and in Hollywood. The album consists of 17 songs, a total of 58 minutes, with a cover of what looks like an entrance to an amusement park.
Astroworld's vibe can be described as a new and creative kind of music. The introductory song, "Stargazing" was released a couple days before the album. "Stargazing" sounds like a dream where fans can cruise through outer space: it captures a chill, yet upbeat way to start off Scott's new prodigy.
Scott's most popular song on the album, "Sicko Mode," features Drake and Swae Lee. The song actually sounds like three different songs put into one, making it different yet catchy. It starts off with Drake singing to a slow-type beat and abruptly cuts off to turn into something faster. This represents the title of the song very well, with Drake and Scott turning what sounds like a normal rap song into something more crazy; they literally entered sicko mode.
One of best songs on the album, "Stop Trying to Be God", is also the longest song, lasting five minutes and 38 seconds. Kid Cudi features his signature humming on the track, giving the whole song a very chill and dreamy vibe. The lyrics speak about people who try too hard or worry about things that they don't need to; Scott is saying to be yourself.
Overall, the album is very impressive. There is not one unlikeable song. Travis Scott will be going on the Astroworld tour with rappers Trippie Redd, Sheck Wes, and Gunna, which sounds like a very promising performance.
Every song on the album has its own sound to it, but all together they capture the vision of Travis Scott cruising through space. The songs that are worth replaying non-stop are "Can't Say," "Stop Trying to be God," "Coffee Bean," "5% Tint,"  and "Wake Up."
The album can be found on iTunes, Spotify, and other music carriers.