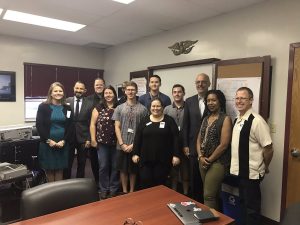 Every year, members of the United States House of Representatives hold district-wide Congressional App challenges for middle and high school students. In Florida's 22nd district, Marjory Stoneman Douglas High School seniors, Scott Newman, Tyler Jarboe and Brian Jarboe, won for their Museum of Discovery and Science App.
The Congressional App challenge is meant to encourage students' interest in coding and computer science. This year, over 220 members of the U.S. House of Representatives held a Congressional App challenge, one of which being Theodore E. Deutch, who represents Florida's 22nd district.
Deutch recognized the winners at the Museum of Discovery and Science in the Principals conference room on Tuesday, Nov. 20.
"It was nerve-wracking to meet someone of his stature but exciting to show off all the hard work we had done," Tyler Jarboe said.
The winners created the Museum of Discovery and Science app in collaboration with over 120 students from Broward County.
"The purpose of this app is to put a digital playground version of the Museum of Discovery and Science in the hands of all youth," Newman said.
The creators' target audience is the visitors of the Museum of Discovery and Science and anyone interested in science.
The Museum of Discovery and Science (MODS) app, contains many features to enhance or simplify museum goers experience. It has an IMAX section where users can purchase tickets or see upcoming movie times. Additionally, there is an exhibits tab where users can learn more information about the museum. This also boasts an augmented reality (AR) feature.
"If you're not at the museum you're still able to tour it by using the virtual tour," Newman said. "Here you will be able to roam around the museum straight from your phone."
Posted on the walls throughout the museum are AR target, which when scanned with a phone, display AR animations that answer the questions that are posted underneath the targets. These animations include fish, dinosaurs, and more.
The MODS app also includes a floor plan section, which shows users the layout of the museum. Users can navigate the first and second floor as well as the outdoor exhibits.  
The Congressional App Challenge invites winners to display their apps to the Members of Congress and tech community at #HouseOfCode, a reception in Washington, DC in the Spring of 2019. Additionally, each student is awarded $250 Amazon credits.
The app they created is the last part of an internship at the Museum of Discovery and Science, thus, they will not be further developing the app. The group hopes to use the success of their creation to continue on to pursue careers in app development.