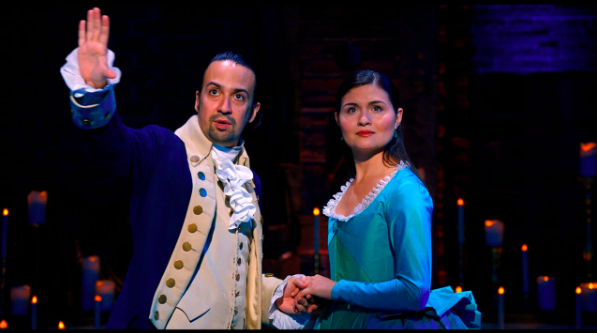 Rap songs, a history lesson and viral trends galore. "Hamilton" has taken the world by storm. Created by the well-known actor, producer and singer, Lin-Manuel Miranda, the musical "Hamilton" originally debuted on Broadway in August 2015. Since then, the show has become a world-wide sensation, and is now available to watch on Disney Plus as of July 4.
As soon as the musical was available on the streaming service, its popularity began to rise once again. Through its diverse cast and catchy lyrics, it attracted an entirely new and larger audience than it did during its time on the stage.
It did not take long for the musical to take over social media. Platforms, such as TikTok and Twitter, were flooded with critiques from viewers.
Miranda himself became a trend, as fans began poking fun at him after past photos of him biting his lip resurfaced. Lyrics from the musical also embodied their own trends. For example, there was a trend on TikTok to the song "The Reynolds Pamphlet", where a person would say a traumatic event that occurred in their life. These videos were tagged with #reynoldspamphlet and created a sub community within the app.
Songs, such as "Say No to This" and "The Reynolds Pamphlet," were being used all throughout TikTok. People started to become more interested in the story of Hamilton and the social media hype was bringing in a more diverse audience. Following its digital release, the album rose from No.14 to No.2 on the Billboard 200 albums chart that week.
"Honestly, it's done a lot," sophomore Andrew Ramos said. "It's been a major hit since it came out on Broadway, but it also has an impact on what's happening now with the Black Lives Matter movement."
A staple in the musical is its inclusivity in casting and appreciation for diversity. The show predominantly features people of color, with the exception of King George III, and includes
many inspirational quotes such as, "Immigrants, we get the job done!" and "History had its eyes on you."
At the time of its Disney Plus debut, the Black Lives Matter movement was at its peak, due to the murder of George Floyd. As protestors flooded the streets, many Hamilfans used the musical's message as inspiration for their signs.
"This is a story about America then, told by America now, and we want to eliminate any distance. Our story should look the way our country looks. Then we found the best people to embody these parts. I think it's a very powerful statement without having to be a statement," Miranda said in an interview with the New York Times.
Hamilton undoubtedly broadened Disney Plus' audience as its release caused a drastic increase of downloads in the app. According to a July 6 article in Variety Magazine, downloads for Disney Plus were 74% higher than the previous weekends after the premiere, Todd Spangler reported in Variety Magazine.
Sophomore Naomi Sternberg first discovered the show on tour in California and later watched the Disney Plus version, while Ramos first saw Hamilton on Disney Plus.
"I believe, in my opinion, that both experiences are completely different in their own way. Like there's some elements you wouldn't be able to understand if you watch it on T.V., but you get a completely different and a better view of the show when watching it through the screen instead of live," Sternberg said.
"Hamilton" has impacted numerous social media platforms and movements such as Black Lives Matter, through its inspirational discography and diverse casting. Many people have been positively impacted by the story of "Hamilton." Whether it is because it helps empower people of color or because people simply enjoy the story, "Hamilton" touches people of all ages, and all subjects.