The Marjory Stoneman Douglas High School junior varsity football team hosted their second game of the season, at home, against Cypress Bay High School, on Wednesday, Sept. 20. This was the first regular season game of the year for the Eagles, as they had their eyes set to start the season strong.
"We can improve on our passing game and our tackling," Head Coach Christian Baldwin said. "We are gonna get better, we got better and I am proud of these boys."
The game began with Cypress Bay receiving the initial kick. This drive resulted in an early punt, giving the Eagles the ball early. The offense took full advantage of this as running back Ignacio Diaz (3) ran in the first touchdown of the game. The Eagles took an early 7-0 lead as kicker Brody Kefford (6) made the extra point. This possession ended the first quarter.
"I just made sure my offense was in run block, just seeing the hole and going," Diaz said.
Cypress Bay took over possession to begin the second quarter. Their drive fell short again, which led to another punt, giving the Eagles an opportunity to extend their lead. The Eagles took full advantage of this, as Diaz rushed for his second touchdown of the game. The Eagles held a 13-0 lead at halftime.
The second half began with the Eagles receiving the opening kick. Diaz helped the offense drive the ball down the field, leading to quarterback Chase Pavlish (1) finding tight end/defensive end Grant Grubor (20) for the third touchdown of the game. Kefford's successful PAT led to the Eagles taking a 20-0 lead.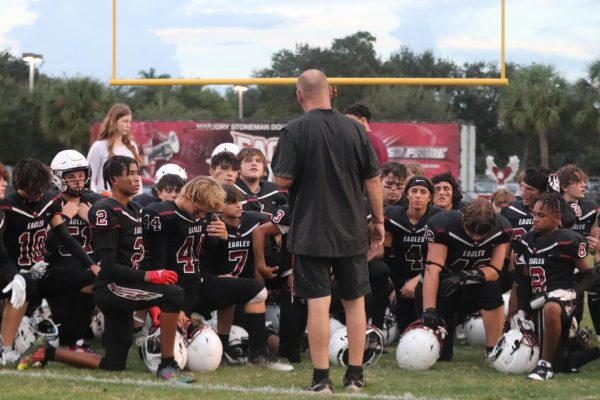 "Before I made the touchdown, I knew the ball was going to me so I knew that if I ran to the corner of the endzone, I'd be open," Grubor said. "So that is what I did."
Following the touchdown, the Eagles defense remained dominant. They forced Cypress Bay to punt the ball, yet again. Additionally, the Eagles kept on scoring. Midway through the fourth quarter, running back Scott Walker (42) scored a touchdown. This extended the Eagles lead to 26-0.
"We played together as a team defensively and offensively and we were able to put it together," Baldwin said.
Walker's touchdown was the last points tallied on the scoreboard for the remainder of the game. A fourth down stop by the Eagles, and a kneel, made the clock hit double zero's. The final score was 26-0 in favor of the Eagles.
The Eagles will play their next game, on the road, at Coral Glades High School. This game will be played on Wednesday, Oct. 4, as the Eagles hope to keep their undefeated season alive.