Juniors Charlie Rothkopf and Victoria Proietto wrap student's wound during shooting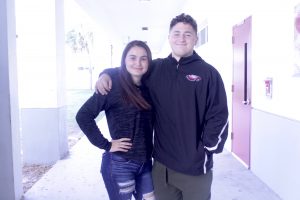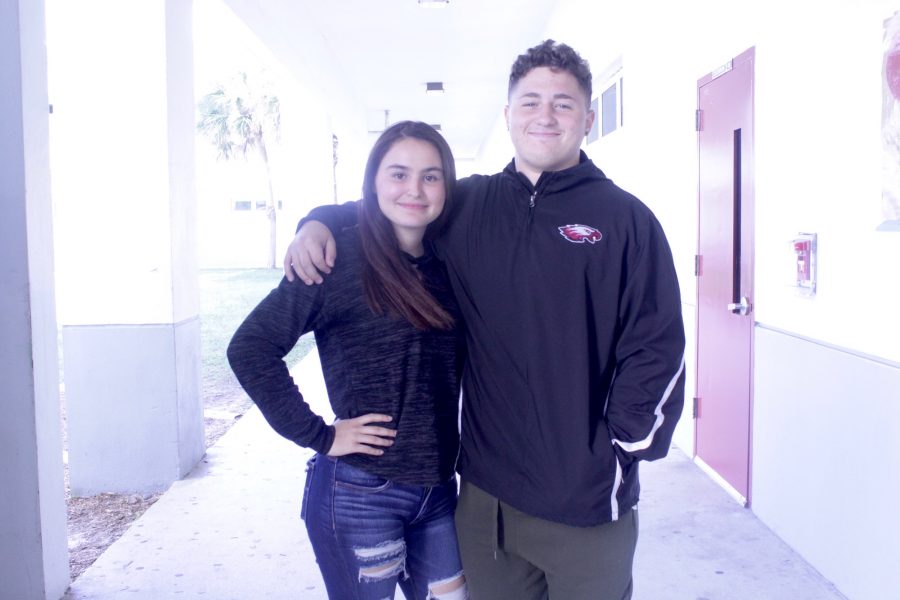 In times of tragedy, stories of heroism arise. During the horrifying act that took place on Valentine's Day at Marjory Stoneman Douglas High School, juniors Charlie Rothkopf and Victoria Proietto took the initiative to help sophomore Ashley Baez who was suffering from a bullet wound..
As students of math teacher Nancy Lazar's fourth period class, the two were located in the freshman building during the time of the shooting. The class had not yet made their way out of the building to evacuate for what they believed was a fire drill before they heard gunshots. Once they were back in his classroom, a fellow student, Baez, who was shot in the leg and had fled to Lazar's room for help.
"My fourth period is guitar, and we aren't allowed to use the bathroom in that hallway, so our options are to go to the freshman building or 700 building," Baez said. "And I decided to go to the freshman building. I wasn't with my class because I was going to the bathroom."
Baez happened to be using the bathroom located across the hallway from Lazar's classroom. Once she was injured, she fled to the nearest classroom to search for help. Rothkopf came to her aid by wrapping a yoga shirt from a fellow classmate tightly around her leg. He held the fabric there until the SWAT team came to rescue them.
"Everyone was freaking out, and I felt like I had to step up," Rothkopf said. "It was just an instinct."
No one can predict how people will act in life threatening situations, but Rothkopf took initiative and saved a life without thinking twice.
"Charlie helped me get through it; he gave me moral support and kept giving me water to make sure that I did not pass out," Baez said. "And he gave me the shirt that was on my leg and sometimes helped me hold my leg."
Rothkopf was not the only source of assistance to Baez. Proietto, had background knowledge in times of crisis thanks to her sister, a paramedic, who taught her what to do in emergency situations.
Proietto, a student in Lazar's fourth hour class, was able to assist Baez by compressing the gash to calm the bleeding. She was relaying advice to Lazar and Rothkopf to help Baez through the trauma as well.
"I didn't know what was really going on," Proietto said. "It was a lot in the moment, and it helped me not pay attention to what was going on. I was just trying to help Ashley calm down."
Similarly to Rothkopf, Proietto had never known Baez on a personal level. Proietto and Baez share a mutual friend but have never interacted besides a greeting while walking down the hallway only a few times, not even knowing each others names. Little did Baez know, two people she had never known personally would end up being a major piece in helping her through this tragedy and potentially saving her life.
"Victoria let me rest my leg on her, and she put pressure on my wound when I couldn't do it," Baez said. "She was worried about how I felt the whole time and helped me through it."
Rothkopf and Proietto successfully saved Baez from potentially bleeding out and showed courage, empathy and responsiveness with the situation they were placed in.