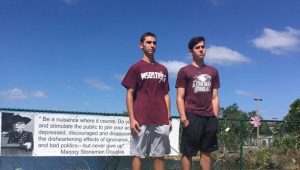 Following the events of Feb. 14, juniors Adam Buchwald and Zach Hibshman wanted to enact change in the world around them. With the help of various politicians and parents across the country, they started the organization "Parents' Promise to Kids", in which parents sign a contract that revolves around an unbreakable promise to their child. This specific promise is to make sure parents, grandparents, teachers and other adults across the country vote for legislatures and government officials who vote for safety over guns and sensible gun laws.
"The day after the shooting, we were very traumatized and upset about what happened. My best friend, Zach Hibshman, who has been my best friend since ninth grade, wanted to do something," Buchwald said. "We saw tons of students marching, but we really wanted to involve the adults. So, we made a contract for parents, grandparents and other adults to make sure they vote responsibly and promise their children they will vote for ethical legislatures who will support children's safety over guns,."
Since children under the age of 18 are not allowed to vote, these contracts allow their voices to be heard through those who can vote.
"Us kids are the future generation. We have to have a part in the voting and the voting process because eventually we are going to be the ones doing it, which is super important," Hibshman said.
With the help of politicians and celebrities such as Rep. Ted Deutch and actress Alyssa Milano, and student activists involved in the Never Again movement, hundreds of contracts were being emailed to Buchwald and Hibshman, as well as tagged on social media such as Twitter with the hashtags, #PPTK or #parentspromisetokids.
"We have been speaking with the Never Again movement and has recently spoken with the Women's March. We've gotten tons of shoutouts from various celebrities as well. It's amazing to see how much support we've received. We have received contacts and emails from all across the country and even some out of the  country. Recently, we received a contract from Israel," Buchwald siad.
The contracts were originally designed specifically for parents of children who were too young to vote in the upcoming elections. With the rise in popularity, followers of the organization reached out to Buchwald and Hibshman to create other forms of the contract for people who did not fit the requirement but still wanted to make a promise.
"It was originally made for just the parents, but then on Twitter we had requests from various people to make other kinds of contracts. We added three new contracts for grandparents who want to sign for their grandchildren, people who don't have children who still wanted to make a difference and teachers who want to sign a contract and make a promise for all the students of America as a whole," Hibshman said.
In total, Buchwald and Hibshman have received over 11,000 contracts, with more being sent in and shared everyday.
"I feel that it is another way to commend making good decisions for our young people who can't vote yet. So, we need a collaborative effort; parent, teacher, student because there's someone who can't vote," guidance counselor Debra Work said.
Buchwald and Hibshman are also in the process of expanding Parents Promise to Kids. They are creating a grading system of different politicians for parents to vote for. Their grading system will be in favor of legislators who support children's safety and practice common sense gun laws.
"Our first step was to get parents to promise to vote, but now that they know to vote, they have to know who to vote for. We are making a list of politicians we recommend to vote. Just like how the NRA graded various politicians, we are doing the same thing just based upon our own standards. Their F-rated politicians will most likely be our A-rated ones," Hibshman said.
Though, both Buchwald and Hibshman agree that it wasn't until Feb. 14 that they became involved in the process of voting and common sense gun laws, they both acknowledge the importance of these laws and why students should be involved.
"I definitely was more of an advocate for common sense gun laws and better safety in school after Feb. 14. That's when it hit our hometown and hit our hearts. That's when it really made me realize that if this can happen here in Parkland, a safe neighborhood, then it can happen anywhere. I would like to make sure that that will never happen again," Hibshman said.
In order to spread their message, Buchwald and Hibshman advise people to download, print and sign the contract found on their website. Then, participants take a family picture while holding up the contract and post the picture to Facebook, Twitter and/or Instagram using the following hashtags: #ParentsPromiseToKids, #PPTK and/or #SafetyOverGuns. Through these posts, Buchwald and Hibshman hope others will make the promise and give a voice to those who don't have one yet.