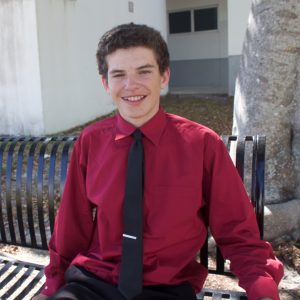 During the Feb. 14 tragedy at Marjory Stoneman Douglas High School, some students and teachers are recognized as heroes who performed exceptional duties to help save lives in the midst of chaos. One of these students is freshman Chris McKenna who came into contact with the shooter minutes before he fired into the school.
McKenna was situated in room 1216 on the first floor of the freshman building. He asked English teacher Dara Hass to go to the bathroom and realized the one on his floor was locked, so instead he headed toward the bathroom on the second floor of the building. As McKenna opened the door leading him from the stairwell to the second floor, he met eyes with the shooter who was loading up his AR-15.
"When I saw him he told me, 'you better get out of here. Things are going to get messy,'" McKenna said. "I was shocked, and I had a gut feeling of what he was about to do. My first instinct was to run."
McKenna rushed out of the freshman building and notified Coach Aaron Feis, who was soon to be one of the 17 victims of the tragedy. At the time, Feis was unlocking the senior parking lot gate and after hearing McKenna's warning, he took him on his golf car to the baseball fields.
"He told me to stay there while he was going to check it out," McKenna said. "He went into the building and came out a hero."
Though Feis was shot in the freshman building, McKenna does not feel guilty about finding him. He knew he had to get help from someone, and Feis was the first he encountered. Feis shielded other students in the building from the bullets, sacrificing his life for theirs.
"People are telling me that I did the right thing, and I feel like I did too," McKenna said. "I could have been the first one gone if I tried to question [the shooter]. He had an AR-15 rifle right in his hand."
Although McKenna does not recognize himself as a hero, he recalls Feis as a true hero because he put others' lives before his own.