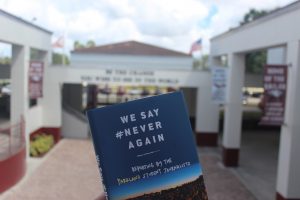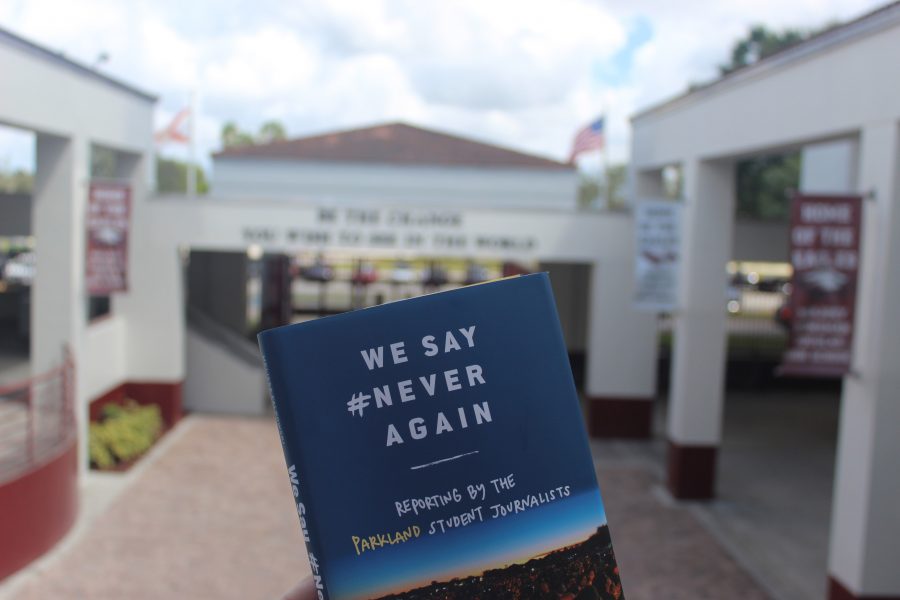 Student journalists knew they had to continue their job of reporting, even though it would be challenging after the unthinkable happened at Marjory Stoneman Douglas High School on Feb. 14th. MSD's newspaper staff released a special memorial issue after the shooting, and soon after released an activism issue focusing on making a change. They were then faced with an opportunity to let their voices be heard in a different way: through a novel.
The novel, written by both student journalists of the MSD Eagle Eye and WMSDTV, focused on extraordinary acts and activism from their administrators, teachers and peers. They also covered many journalism lessons from how to cover tragedy to being in the spotlight. MSD students were given the opportunity to write as authors for a topic they felt deeply connected to.
"I feel that the book is a step in a new direction for us, because a lot of the activists we had last year left MSD," junior and TV production student AJ Griffith said.
Newspaper advisor Melissa Falkowski and TV production teacher Eric Garner agreed to be the editors of the book, titled "We Say #NeverAgain." The title incorporates the phrase that was widely used after the tragedy as a hashtag in order to spread awareness around the world.
"I love the idea of the journalists having a voice that goes beyond here," Garner said. "For me, every time I tell the story and write about it, a little more weight is taken off of me, a little more healing is happening. I mean, it's never going to  be over. That tattoo is gonna last forever, but it's how we move on now. This is something that helps me move forward, and it's a good thing."
The novel features an inside look into what took place at MSD and the fight for gun control. With memorable stories already reported through the Eagle Eye, Falkowski was able to pick out which excerpts she believed fit best in the book. The rest of the articles were written by MSD students on topics such as political views.
After reporting the stories of so many others, MSD journalists were given the chance to share their own. In the book, they share their experiences from that horrific day, as well as the momentous events that follow.
"I believe this book will show people not only what we went through, but what we have accomplished in the aftermath of everything," junior and Eagle Eye editor Dara Rosen said.
Besides the fact that MSD was faced with their own kind of journalistic inquiries from reporters, students were taught how important journalism is in society, and how it is necessary to report every situation, even the awful ones.
"I think journalism is important to society in general and our society can't function without it," Falkowski said. "For me, teaching journalism is even more important because it teaches students how to question things around them and how to determine fact from opinion."
The aftermath led students to take action through journalism and activism. Student and teacher activists alike share their experience of what it is like to participate in an influential movement. The book portrays how the generation of teenagers today have skills that even adults are not able to comprehend, like speaking on social media effectively by ensuring that their voices are heard.
"I don't really have any expectations for the book, I thought it was a really important project for us to work on because we published it in a different way. It was a way for students to have their voices published in a different format than what we are used to doing," Falkowski said. "I hope it will be successful because a portion of the proceeds will help fund our program."
Consisting of 272 pages and sold for $14.39 on Amazon, the novel is separated into different sections and extraordinary stories such as, "Chef Kurth Pulls 60 Students Fleeing from Freshman Building into Safety" and "Senior Brandon Huff Runs Towards Freshman Building for his Girlfriend," which are just a few of the stories listed in the book from that day. Spreading awareness about the shooting at MSD is helping to influence change, such as laws and the outlooks from others. Though school shootings are a very tough subject for the MSD students to discuss, they are continuing to use their voices for change.