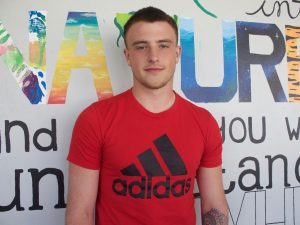 On Valentine's Day of 2018, senior Brandon Huff planned for a romantic evening with his girlfriend, senior Jessica Luckman, but sadly their celebration of love was cut short. Huff was outside the cafeteria filling up his water bottle when the fire alarm went off. He proceeded to walk back toward his classroom to meet up with his classmates for the drill when his phone buzzed with several texts from Luckman: "baby there's a shooter in my room," "there's a gun" and finally, "I love you." Luckman was in AP Human Geography teacher Ivy Schamis' fourth period class on the first floor of the freshmen building.
He immediately dropped his water bottle and hall pass and picked up his cell phone. Swiftly shifting directions, he started running toward the 1200 building with Luckman on the phone with the intention to enter the building.
"All I could focus on was doing anything I could to get her out of there safely," Huff said. "… When I tried to run into the freshmen building, I wasn't thinking, I was just acting."
However, his goal was not reached as a police officer posted outside the building prevented him from entering, understanding the danger Huff would be putting himself in had he gone after the shooter. The officer guided him to the auditorium where Brandon and dozens of others hid for over an hour.
"What Brandon did was selfless. Although stupid for trying to run into the building with nothing to defend himself, that wasn't what he was thinking about," Luckman said. "He puts others before himself, and I'm the luckiest person in the world to have him. I love him for trying to help others and am beyond proud of him."
The two stayed on the phone until the SWAT team came to rescue Luckman and her class and she had to put her hands in the air.
According to Huff, if he had successfully made in into the building with the active shooter, he would have gone to Luckman's class to reassure her that it was going to be okay and protect her from the shooter.
"If I would have been able to get into the freshmen building, I would have tried to get to my girlfriend's class to make sure she was okay and comfort her in any way I could've," Huff said. "… I would've done anything I could to stop the shooter, even if it meant risking my life for the safety of others."
While Huff admits that his attempt to run into the building was rash, he says that his only regret is not making it into the building.
"Even if I wouldn't have stood a chance against the shooter, I would've done anything to try and save at least one life and to have been there to assure my girlfriend everything would be okay," Huff said.
The couple was finally reunited several hours later when Huff arrived at Luckman's home after finally being escorted out the building by the SWAT team.
"It was relief to see that he was okay with my own eyes," Luckman said. "It's still a shock that this is all real life, but it helps having each other.
While Huff was unsuccessful in his attempt to stop the shooter, he committed the ultimate act of love and self-sacrifice for his beloved girlfriend, manifesting the true, uncorrupted spirit of Valentine's Day.