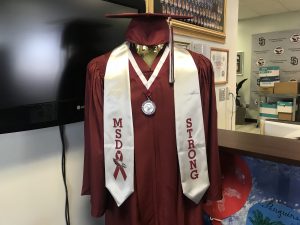 With the seniors soon to graduate on June 3, many companies want to help honor the Marjory Stoneman Douglas High School class of 2018. One major contributor is jeweler Chuck Puleri & Associates, who partnered with cap and gown provider Herff Jones to make sashes for the seniors to wear at graduation. They will also be providing pins that say "MSD Strong" for the other Broward County high school seniors.
"It was an easy decision; I have been working with high school students for 36 years and in Broward County since 1992," Puleri said. "I knew Ty Thompson when he was a student, teacher and SGA advisor at Plantation High School and Chris Hixon for many years as well. When this happened at Douglas, it hit me to my core, and I wanted, or actually needed, to do something to help. It was the right thing to do, and Herff Jones was there to partner with me for these items."
Chuck Puleri & Associates and Herff Jones donated 1,100 sashes to the graduating class, one for every senior. The sashes are white and say "MSD" on one side and "STRONG" on the other with a burgundy ribbon under the letters "MSD."
"Yes, I know how much each cost, and I will absorb the cost and partner with Herff Jones on that," Puleri said. "This tragedy hit not only MSD, but Broward County and across the world. I am also donating 17,500 MSD STRONG maroon lapel pins so every graduating senior in Broward County where I know the graduation date and number of seniors will receive a lapel pin to honor the MSD students, school and community."
Many seniors are looking forward to wearing these sashes at graduation. The jeweler has ensured that every senior that wants to wear a sash and pin will have one available to them.
"I think it is a very nice tribute," senior Jenna Korsten said. "The sashes are great for memorization, and I am thankful for their donation."
As a result of the donation, the senior class wants to do something to thank Chuck Puleri & Associates and Herff Jones for their kindness.
"We are probably going to call Chuck Puleri & Associates and Herff Jones," MSD SGA president Sabrina Fernandez said. "We will also probably send them a picture of all of us wearing them."
Now that the seniors know about the donation, some underclassmen have raised questions on whether or not the classes of 2019, 2020 and 2021 will also get the sashes.
"We are working with Mr. Thompson for this year's graduation," Puleri said. "We will discuss it with him and honor his wishes as we move forward. I would be honored to donate the sashes for the next three years, but that is Mr. Thompson's call."
At graduation, the seniors will be able to show off the donated "MSD STRONG" sashes and pins. In fact, Puleri himself will be attending the MSD graduation. Looking back on graduation, these sashes will allow every senior to remember and represent MSD and its strength.