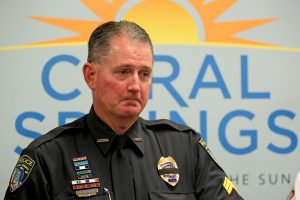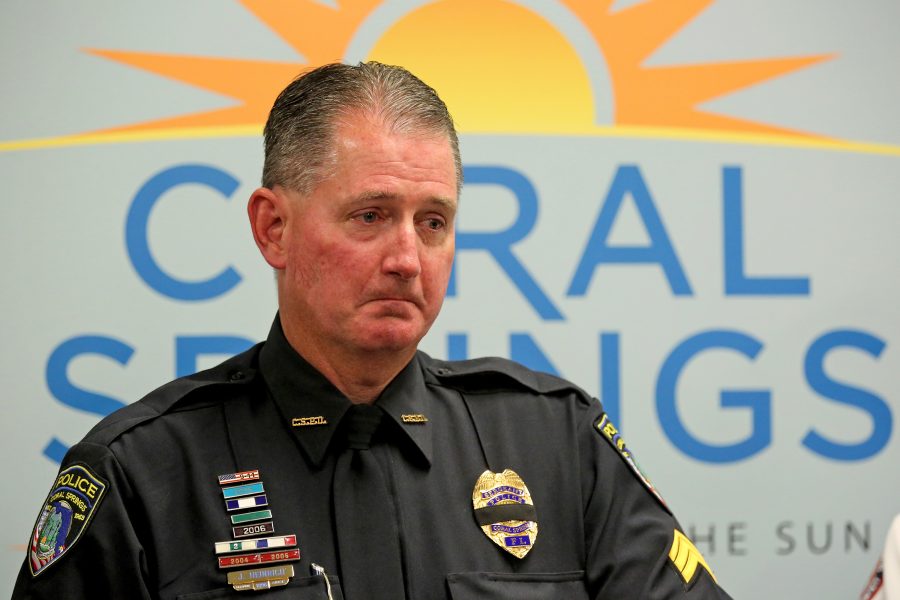 Sgt. Jeff Heinrich of the Coral Springs Police Department is a police officer with a unique connection to Marjory Stoneman Douglas High School. His wife is world history teacher and assistant athletic director Marilyn Rule, and his son is a student. In his spare time during the day, he likes to help the staff keep up the grounds of the athletic fields.
On Feb. 14, Heinrich was just doing what he liked to do. He was off-duty, he was wearing shorts and a t-shirt, and he was watering the infield of the baseball diamond. When he first heard a round of three to four shots, he was initially in disbelief.
"I honestly thought they were fireworks," Heinrich said in a Feb. 15 press conference. "I thought the kids were screwing around; I thought maybe someone set off some fireworks, and the school set off the fire alarm."
Upon approaching the 1200 building, he quickly discovered that they were, in fact, gunshots, and first encountered an injured student. This student, now known to be freshman Kyle Laman, provided Heinrich with a detailed description of the shooter, the situation and what happened to him. Laman was shot in his leg, and Heinrich tended to his injuries with the first-aid supplies found in the clubhouse near the baseball field, and then turned Laman over to fire department paramedics.
Heinrich who was then fully focused on law enforcement duties, met with Capt. Bradley McKeone, who had an extra bulletproof vest and weapon for him to protect himself. Heinrich choked up as he described the next part of his experience: calling his wife and son. He was able to reach them and was relieved to find that they had reunited by pure chance, safe along with two other teachers and 63 other students.
Heinrich then returned to the 1200 building, and while other deputies were inside clearing the hallways, he, Captain McKeone and an unnamed Broward Sheriff Office deputy maintained the perimeter of the building. Once it was determined that the shooter had left campus, Heinrich, along with other BSO officers, began to clear the other buildings in the school, evacuating students and teachers with the assistance of the SWAT team and the K9 unit. He was reunited with his family much later that night in his Coral Springs home.
Heinrich's heroic actions are heralded by police and local press, as well as the MSD community. The officer later paid a visit to Laman in the hospital and keeps in touch with his parents. While the investigation continues, Heinrich is using social media to try to fulfill Kyle's three biggest wishes: meeting Donald Trump, meeting Ellen Degeneres and getting a German shepherd service dog.